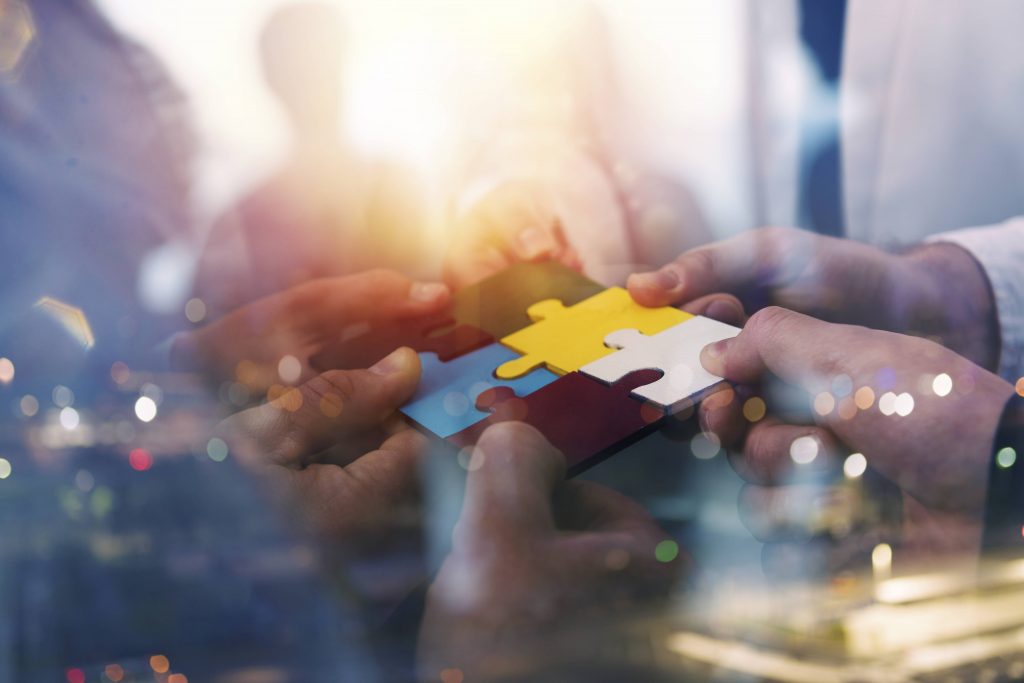 Broadly recognized is a growing need for higher education to effectively develop the soft skills learners need to succeed in a knowledge-based economy.
Skills such as interpersonal skills, leadership, critical thinking, and self-regulation are recognized as twenty-first-century learning skills and are imperative to the health and stability of the global workforce. However, defining and measuring these personal attributes that set up a student for success is complex. Higher education has long wrestled with effectively demonstrating how their soft skill development activities produce career-ready graduates. Even more, with the sudden transition to online and hybrid delivery, measuring soft skills becomes difficult.
What are Soft Skills?
Soft skills are the personal attributes that enable someone to interact effectively and harmoniously with other people. These are the personal attributes needed to succeed in the workplace and are not generally discipline-specific. The concept of soft skills includes many dimensions and can be defined and interpreted in many ways.
Some refer to these as the "people skills" since the skills relate to how people interact. Others call these "traveling skills" or "transversal skills" since they tend not to be job-specific; they are applicable in any job or employment situation and "travel with" the person. Still, others refer to soft skills as social intelligence or perhaps emotional intelligence. In a broader sense, consider soft skills as any skill that is not a job or position-specific (technical) and one that involves how people behave and interact with other people.
Based on our experiences and those described in the case studies found in the whitepaper, EvaluSkills: Assessing Soft Skill Learning Outcomes Using 360-degree Approaches, we offer the following insights.
The Continuous Improvement Process
Measuring the competencies needed for success beyond the classroom is imperative. This priority is demonstrated in establishing learning outcomes that institutions or programs adopt relative to student behaviors and competencies. Aside from technical knowledge and hard skills, academic programs often define goals for interpersonal skills such as critical thinking, teamwork, or communication. Rather than setting targets for what the student will KNOW upon graduation, these learning outcomes focus on what type of person the student will BE.
While objectively measuring learning outcomes related to soft skills can be a challenge, the continuous improvement process requires that all learning outcomes be assessed in a way that provides data to inform academic decision-making. To determine whether students achieve the intended learning outcomes, the institution needs to set a target. Performance can then be measured in an objective way to demonstrate achievement or to set goals for improvement. This process follows Deming's Plan-Do-Study-Act cycle of improvement: Plan the outcome and the target, Do the assessment, Study the results and identify any gaps, and then Act by making programmatic changes to improve outcomes in the next round.
Soft Skills and the Workforce
A 2019 study conducted by Society for Human Resource Management (SHRM) reported that the most significant concern for business and HR leaders is a growing skills gap. This skill shortage is largely caused by a lack of developed soft skills within our workforce. The LinkedIn Learning 2020 Workplace Learning Report analyzed data from more than 660 million professionals and more than 20 million jobs to determine the most in-demand skills. They found that the skills needed most today are creativity, persuasion, collaboration, adaptability, and emotional intelligence.
Since soft skill competency is reflected in how well a person interacts with others, it is best evaluated from an external perspective rather than through self-assessment. To this end, Peregrine developed EvaluSkills: Workplace Skills Assessment. EvaluSkills is a comprehensive, objective, 360-degree assessment tool that organizations and institutions use to assess learners' soft skills from the perspective of those who work with the individual. The reports provide data to demonstrate achievement levels, track changes in performance, and set goals and timelines to improve soft skill development for both the individual and across the program. 
EvaluSkills-Objective Measurement of Soft Skills
EvaluSkills: Workplace Skills Assessment is a soft skills assessment service based on 360-degree assessments used in the business world but adapted for higher education. The perspectives of peers, supervisors, advisors, mentors, and colleagues are gathered using an online 360-degree assessment process to provide feedback on the individual's behavior and performance from various sources. This process provides an objective and accurate measure of skills essential to success in the workplace, whereby learners and faculty gain an in-depth understanding of areas of strength and opportunities for improvement.
Academic programs vary in their learning outcomes related to soft skills. Hence, the EvaluSkills platform offers a vast menu of almost 300 assessment items from which administrators can select and create an instrument for programmatic evaluation.  For each assessment item, a specific skill is defined and measured with a five-point Likert-type scale corresponding to specific behaviors associated with each level of performance. The use of standardized rubrics for evaluating each assessment item removes subjectivity, and the rubrics provide evaluators examples of exceptional, competent, or marginal performance on each skill.
The Soft Skill Assessment Process
Soft skill assessment is more than just the administration of an instrument: it truly constitutes a process. EvaluSkills: Workplace Skills Assessment is a customizable service whereby the adopting institution (higher education or employer) can choose the appropriate assessment items to measure soft skill proficiency, gather feedback from a variety of observers, obtain objective scores and written comments, and use the information for both individual and organizational improvements.

The first part of the process involves a selection of a set of soft skills to evaluate. Each soft skill in the database is assessed on a five-point Likert-type scale, where each rating on the scale is associated with a corresponding rubric and sample behavior description. Each person evaluating a participant refers to the rubrics and sample behaviors, reducing subjectivity. The rubrics allow school officials to measure items that are typically considered intangible.
Peregrine provides the adopting institution with a database of soft skills from which they can choose those that are most important to them for assessment based on their intended outcomes. Since the list of available skills is so extensive, EvaluSkills includes instrument templates based on the program's learning goals which the institution can edit or adapt to fit their purpose, including the ability to add soft skill rubrics developed by the institution or upload versions translated into another language.
The second part of the process begins when the institution creates the instrument they want to use for their group (or creates several instruments for assessing different groups), they add participants, and invite them to collect feedback. At this point, the institution may assign evaluators for the participants or ask each participant to invite a variety of people familiar with their work to give them feedback. Peregrine grants access to the EvaluSkills platform for the person (faculty, supervisor, peer, etc.), called the Evaluator, to complete the participant assessment/evaluation. The administrator at the institution can manage the process, set deadlines, and review reported data after the assessment closes using the administrative website.
Finally, the process concludes with gathering data and using the information for personal development and program improvement. A summary report tabulates the evaluations and presents the results in a useful way for learning outcomes evaluation. Individual participant reports can be used by the student for self-improvement and by prospective employers.
Case Study: Wyższa Szkoła Bankowa w Gdańsku (WSB-Gdansk)
Our higher education institution thought-partner, Wyższa Szkoła Bankowa w Gdańsku (WSB-Gdansk), developed an Executive Master of Business Administration (EMBA) in Leadership program in 2019. The school's undergraduate and graduate business programs are accredited by the IACBE. The EMBA in Leadership is an 18-course program with a 12-month applied leadership project and one-on-one coaching/mentoring.
Peregrine Global Services worked with the EMBA in Leadership to map assessment items from EvaluSkills to the EMBA in Leadership competencies. The students of the program were assessed in November 2019 at the beginning of the program and then again in November 2020 at the end of the program.
The relative proficiency of the following soft skills was measured as part of the assessment process:
1. Fairness
2. Emotional Control
3. Decision-Making
4. Leading by Example
5. Listening
6. Responsibility
7. Coaching
8. Workplace Communication
9. Building Others
10. Setting Priorities
11. Delegating
12. Creating Positive Culture
13. Forward Thinking
14. Using Feedback
15. Valuing Diversity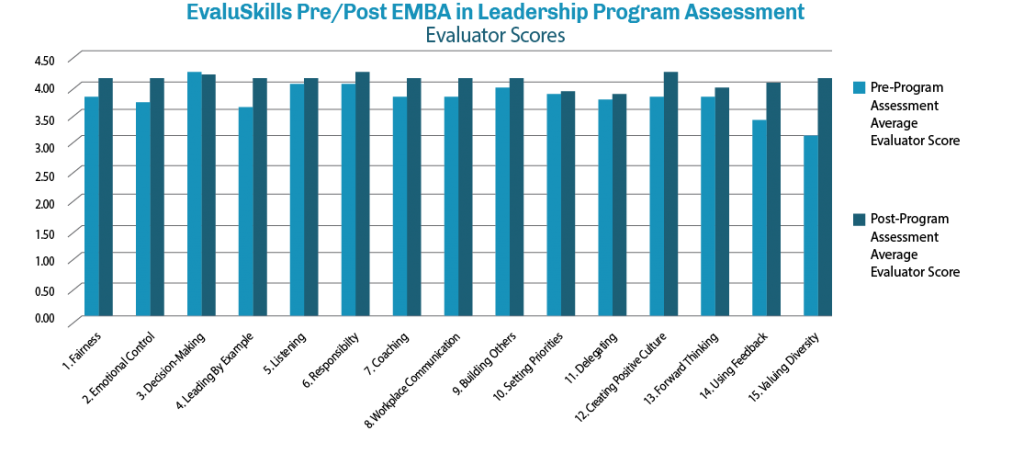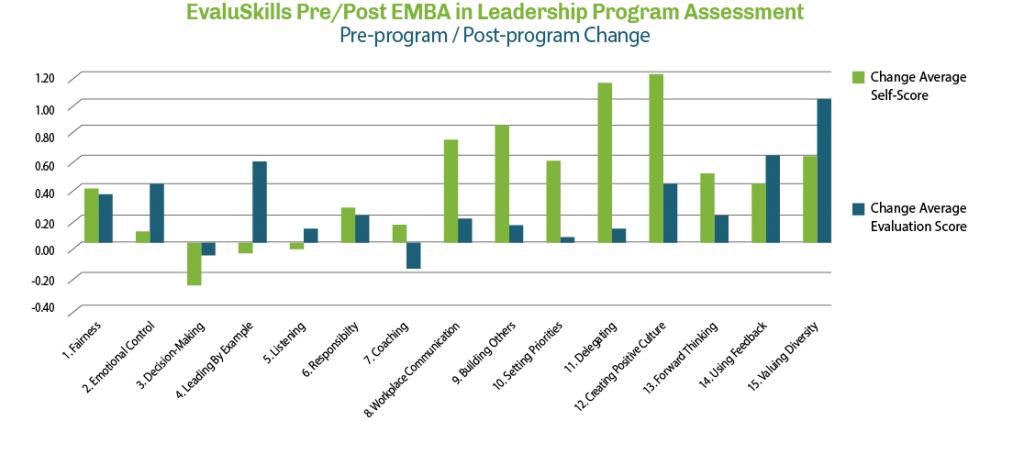 The evaluator averages are shown in the graphs to the left and below. Scores changed in a positive direction for 46 of the 60 assessment items from the pre-program assessment
(N=21 participants; 113 evaluations), compared to the post-program assessment (N=20 participants; 104
evaluations).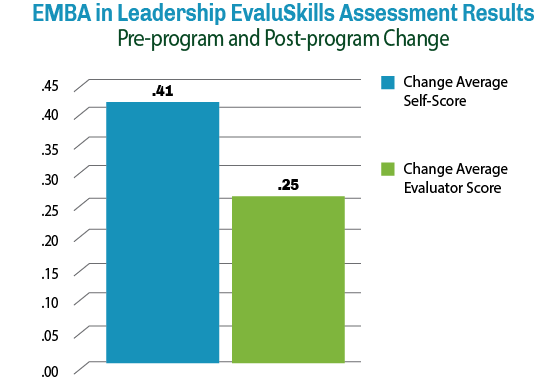 Continuous Quality Improvement
The results from the first cohort of students for the MBA in Leadership offered by WSB-Gdansk, showed that 46 out of 60 assessment elements showed positive change from the pre-program to the post-program evaluation. Of those 14 elements that did not have a positive change, only five had a significant (>= 0.20) negative score change.
Decision-making
Coaching
Setting Priorities
Delegating
Based on these results, some continue quality improvement actions are warranted. Such improvements could include changes to curriculum, ensuring various concepts and competency development activities are embedded throughout the course of the program, or special projects that target each of the areas where there was not a positive change.
Future longitudinal analysis will show if the changes made to the program for the 2021-2022 cohort had the desired results.
To read more about assessing soft skills in a higher education environment download the full whitepaper by filling out the form below, EvaluSkills: Assessing Soft Skill Learning Outcomes Using 360-degree Approaches.