We partner with higher education accreditation agencies and other consultants who work in higher education to develop relevant publications aimed at impacting the quality of higher education. The resources are available for no-cost download from the site to help promote performance excellence and continuous quality improvement in higher education throughout the world.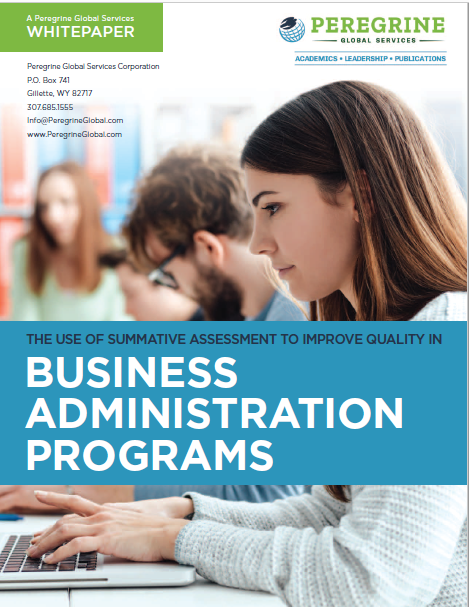 The Use of Summative Assessment to Improve Quality in Business Administration Programs
The assessment of learning outcomes is essential to quality and accreditation. Accreditation agencies require the use of assessment to encourage the continuous quality improvement of the academic programs. Assessment data are used to evaluate learning, see trends over time, and understand change. In Peregrine's whitepaper on Business Administration (BUS) program assessment, you will find five case studies from schools using our programmatic assessment services, trends and analysis from 10 years of assessment data, and information related to accreditation, best practices, academic benchmarking, and building the quality culture.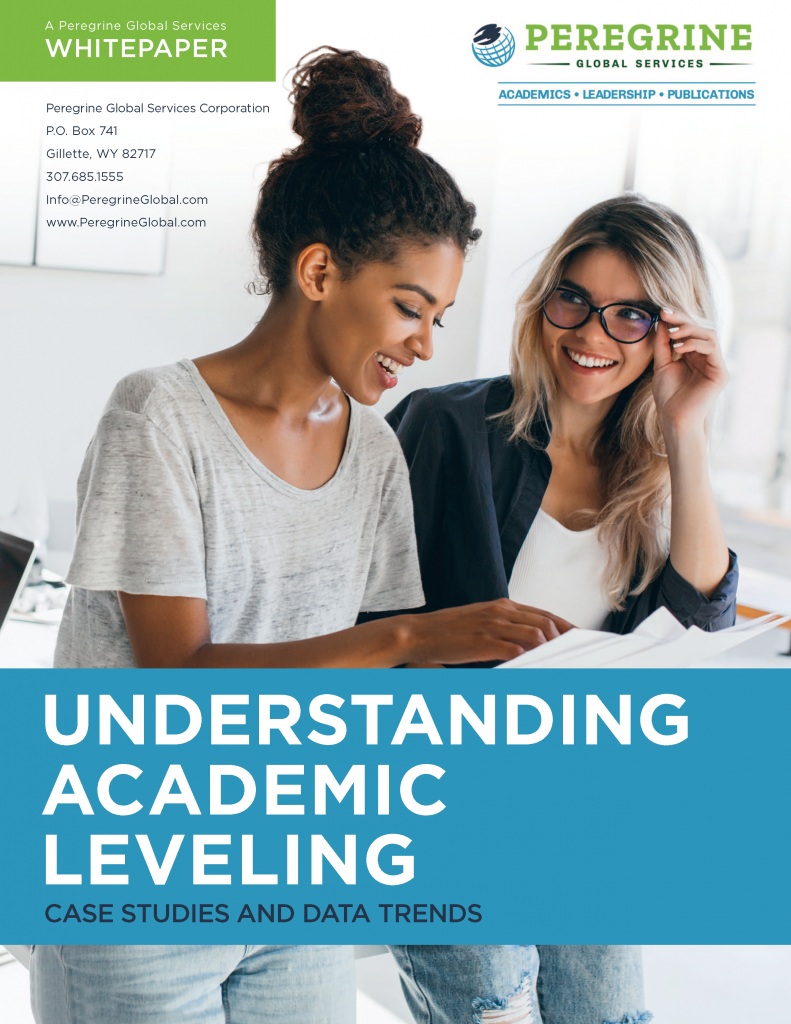 Understanding Academic Leveling – Case Studies and Data Trends
Academic leveling refers to a process by which students are oriented, or leveled, to a field of study. Use of leveling modules is intended to provide a foundation of knowledge for students to build upon in their graduate studies. The purpose of this whitepaper is to understand trends and relationships based on the assessment data associated with the modules used for academic leveling. The whitepaper includes cases studies from schools using Peregrine's modules for academic leveling and the trends in aggregate from all school using the modules for academic leveling.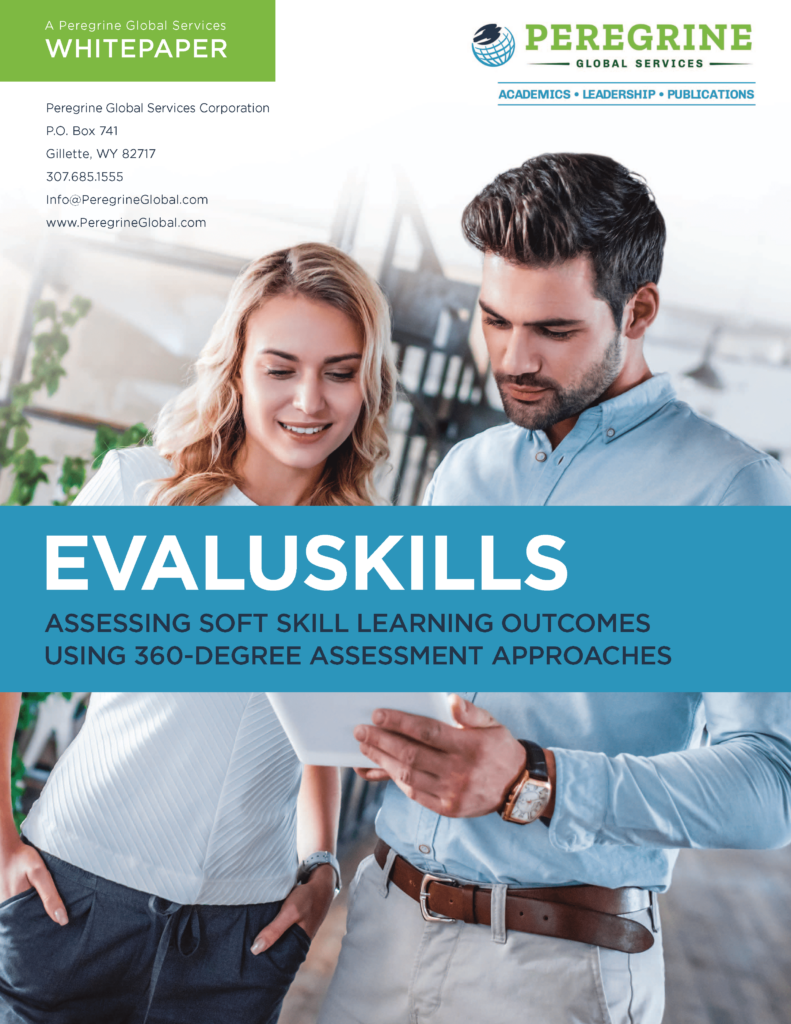 EvaluSkills: Assessing Soft Skill Learning Outcomes Using 360-degree Assessment Approaches
This whitepaper aims to share a process and results of objectively measuring soft skills using a 360-degree assessment approach. The assessment service used was EvaluSkills: Workplace Skills Assessment. The whitepaper provides insight into soft skills, case studies that illustrate best practices and results, and an analysis of the results.
OneDay Strategy Simulation: An Interactive Learning Experience Whitepaper
The purpose of this whitepaper is to understand how the OneDay experiential learning simulation is used to improve quality in higher education with the development of key soft skills, critical thinking, and the formation of business strategy competency. This whitepaper includes the perspectives from two leading universities based on their use of OneDay.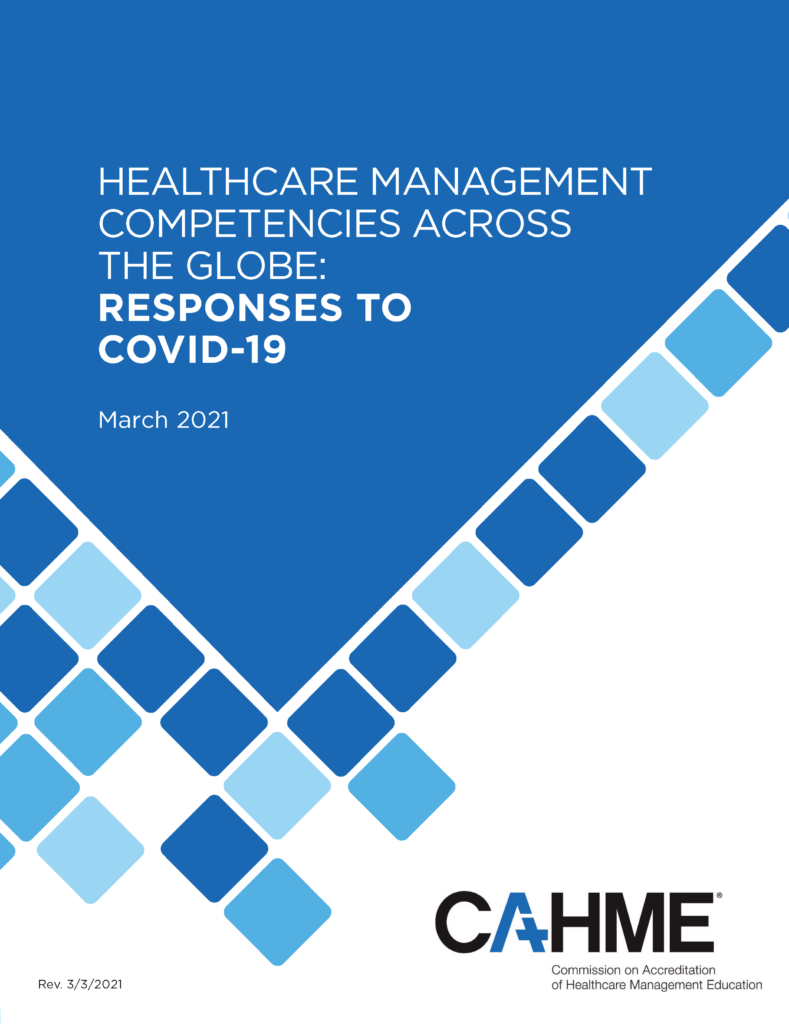 Healthcare Management Competencies Across the Globe: Responses to COVID-19
Global competence is imperative for supporting initiatives to improve public health. COVID-19 shed a new light on the global healthcare environment, and the need to satisfy the high demands of a crisis today. In this whitepaper, which was co-authored with the Commission on Accreditation of Healthcare Management Education (CAHME), case studies are presented that illustrate how higher education institutions have adapted to meet the needs of students in amidst the recent global pandemic.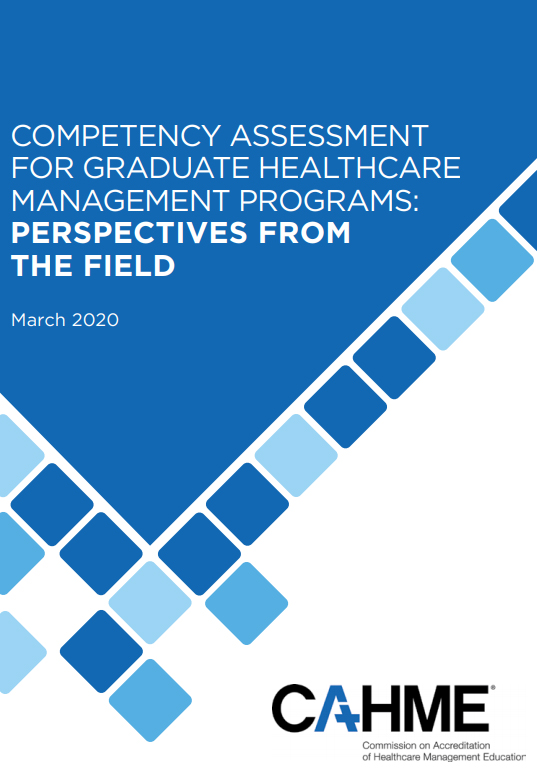 Competency Assessment for Graduate Healthcare Management Programs: Perspectives from the Field
Healthcare and higher education are embracing the use of data for quality improvement. Measurement leads to improvement. Not only does data aid continuous quality improvement in the delivery of care, but it is increasingly used to make sure graduates of accredited programs are prepared to lead the profession. In this whitepaper, which was co-authored with the Commission on Accreditation of Healthcare Management Education (CAHME), case studies are presented that illustrate various approaches to competency-based assessment, which are applicable to most academic programs in higher education.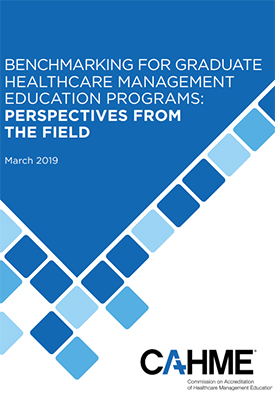 Benchmarking for Graduate Healthcare Management Education Programs: Perspectives from the Field
Benchmarking provides organizational leaders with an external standard against which to measure the organization's own internal or external outcomes, often with the goal of finding ways to improve organizational performance. In this whitepaper, which was co-authored with the Commission on Accreditation of Healthcare Management Education (CAHME), we describe specific techniques that academic program managers can use to benchmark student and program performance.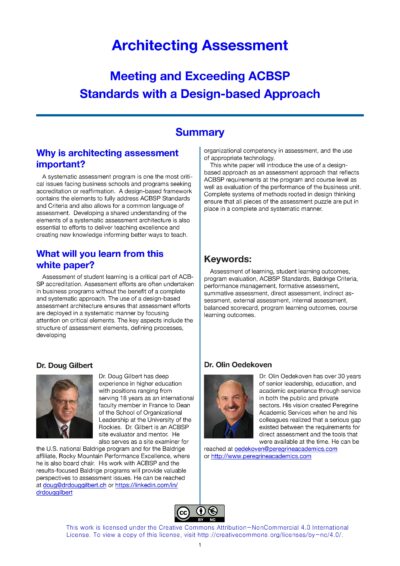 Architecting Assessment: Meeting and Exceeding ACBSP Standards with a Design-based Approach
A systematic assessment program is one the most critical issues facing business schools and programs seeking accreditation or reaffirmation. A design-based framework contains the elements to fully address ACBSP Standards and Criteria and allows for a common language of assessment. Developing a shared understanding of the elements of a systematic assessment architecture is also essential to efforts to deliver teaching excellence and creating new knowledge informing better ways to teach.
Assurance of Learning Workbook
The purpose of the Assurance of Learning Workbook is to provide higher education leaders the tools and processes associated with assurance of learning so that they can conduct assurance of learning and help satisfy both accreditation requirements and perform continuous quality improvement. The focus of this workbook is how the higher education institution can best leverage the online assessment and educational courses and programs provided by Peregrine Academic Services to help satisfy the assurance of learning requirements as specified by the various accreditation agencies.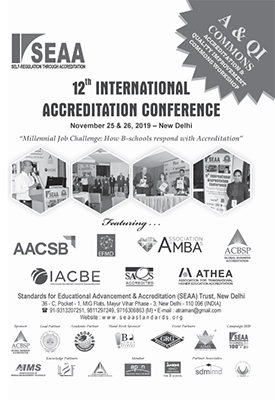 Bridging the Gap Between Perceived and Actual Quality through Voluntary Accreditation
Voluntary accreditation facilitates the transformation of the academic institution towards a higher level of quality. In this article written for participants at the 12th Annual International Accreditation Conference held in New Delhi India in November 2019, Dr. Olin Oedekoven discusses the impact of quality assurance through voluntary accreditation from the perspective of the customer experience the institution seeks to provide.