Higher education business programs have worked diligently to close the gap in business education – primarily related to non-business majors who aim to enter a graduate business program. Non-business majors make up a large percentage of the students who seek out an MBA after completing their undergrad. According to a survey conducted by the Graduate Management Admission Council, more than half of all students seeking entry into an MBA program are non-business majors. The study collected data in 2016 from more than 11,000 prospective business school students.
Serving Non-Business Majors
It makes sense that learners from various educational backgrounds are interested in a graduate business degree. Master of Business Administration degrees continue to be one of the most versatile graduate degrees a learner can pursue. Regardless of industry, an MBA prepares students to achieve their entrepreneurial dreams, change careers, or move into leadership positions. Additionally, the diverse set of academic backgrounds provides a richer learning environment within graduate programs, which allows the students to look at a business-related topic from a variety of perspectives and areas of expertise.
Although there is value-added for both business graduate programs and learners from a non-business background, the lack of foundational business knowledge prominent among non-business majors can negatively impact learner success. The lack of foundational knowledge in business core subjects is what is considered a gap in business education.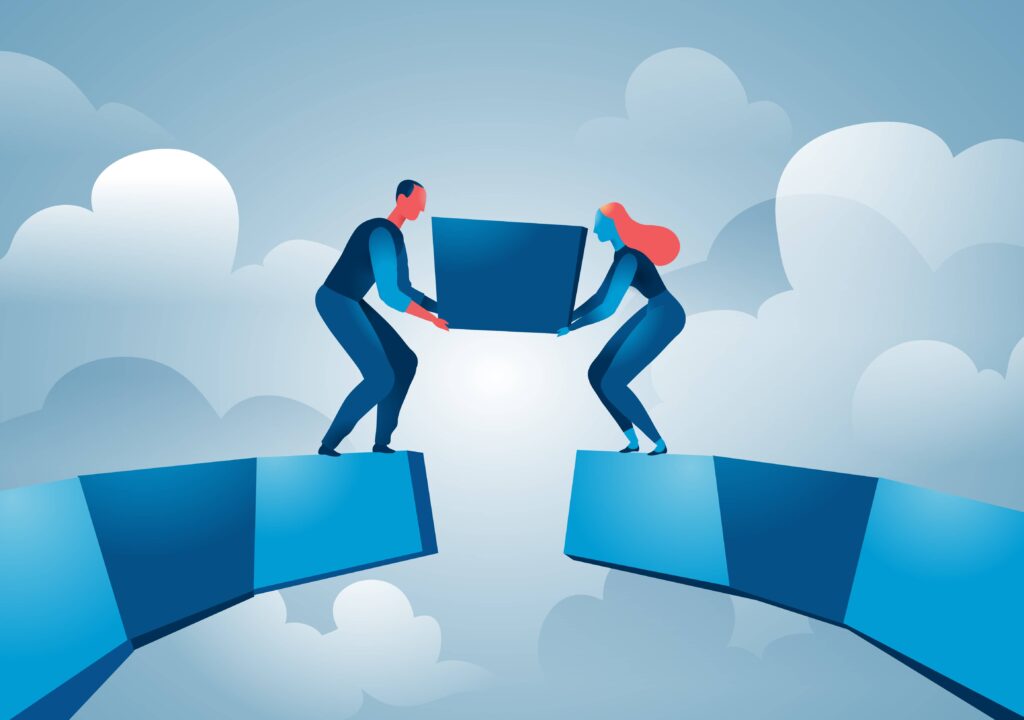 Institutions have various methods for closing the gap for non-business majors, including requiring those without a business background or those who score low on a given assessment to take a series of core classes in finance, marketing, economics, and ethics. The additional courses add considerably to the cost of education and add to the length of the degree program.
Learners need and want instructional content that actively engages them in the process of learning. Learning is a personal experience, and when we can provide learners with the opportunity to understand, apply, experiment, and reevaluate, we are truly supporting the construction of knowledge.
Academic Leveling
Another method that institutions use to close the gap in business education is Academic Leveling. Academic Leveling provides learners with short and modular online content covering the core subjects common within a business undergraduate program. The content's modular nature ensures that schools can pick the topics that are important to their graduate program while also keeping content broken into smaller chunks that are more digestible for learners. Also, by providing online, self-guided, institutions allow learners the freedom to complete the coursework at their own pace, before admissions, within an introductory course, or in conjunction with other coursework required for their program.
The power of Academic Leveling is it offers learners a competency-based approach to building their foundational business knowledge. By integrating a pre-test and post-test, institutions can effectively measure a learners relative competency within a subject of business to determine whether learners need to complete the module. Additionally, the post-test helps learners demonstrate knowledge after the completion of instructional content.
Peregrine Global Services offer a variety of modules that support Academic Leveling and Advanced Academic Leveling. Of the available modules, 16 are based on the areas traditionally covered in an undergraduate business degree. Each of the 16 modules provides a pre-test. Institutions can choose a minimum required score that will exempt a learner from continuing with the module given that they have demonstrated the knowledge needed for their program within that module. If the minimum score is not met, the learner will move to the instructional content – usually taking about 3-5 hours to complete. Finally, learners will take the post-test and have two attempts to achieve the score required to satisfy a school's requirement.
Improving Retained Knowledge in Business Education
The field of education has grown considerably over the last century. Educators have discovered that learners crave a learning environment that keeps their brains engaged. Learners expect to have access to various resources, including video, audio, text, and activities. Also, allowing learners to test their knowledge regularly reinforces essential concepts and helps them cross the knowing/learning gap.
Learners also need well-organized content that balances all the various types of multi-media content and scaffolds information so that each concept introduced builds upon a concept or idea previously learned. It is our responsibility as educators to guide learners through information.
Peregrine considered these best practices when developing each Academic Leveling module. Due to this foresight, the modules provided have had a significant impact on retained knowledge. Recently, Peregrine examined data from 17 client schools over six years. We found that learners who completed Peregrine's Academic Leveling modules scored higher on a knowledge-based, summative assessment in every topic area at the end of their program. The percentage change ranged from a low in Marketing 3.29% to a high in Quantitative Research Techniques and Statistics 14.61%.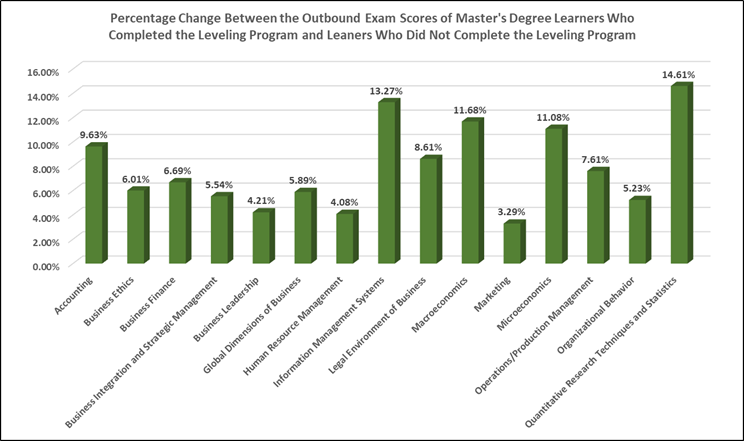 Percentage change between the Outbound Exam Scores of Master's Degree Learners Who Completed the Module-based Leveling Program at the Start of their Master's Degree and those Learners Who did not Complete the Module-based Leveling Program.
Therefore, those who complete an Academic Leveling program at the start of their master's degree program learn and retain knowledge more than learners who do not complete a similar academic leveling program at the beginning of their master's degree program.
To learn more about Academic Leveling as a affordable and effective method for closing gaps in business education register for our upcoming webinar here.
Download the full whitepaper with comprehensive research, data, results, and conclusions related to programmatic assessment and Academic Leveling by filling out the form below.