Starting a business is not for the faint of heart. It requires a lot of hard work, time, and money and sometimes feels like an enormous risk. Yet, according to the Small Business Administration Office of Advocacy's 2018 Frequently Asked Questions, about 80% of small businesses survive the first year. However, only about half of all companies survive after five years, and only 30% of businesses make it past ten years. So, you may be asking yourself, why do small businesses fail? Understanding the mistakes of overly eager entrepreneurs can help you avoid the common pitfalls in building a sustainable and successful small business.
For a more in-depth understanding of the ins and outs of starting a business, take a look at our fully online course, Entrepreneurialism.
Skimping on the Business Plan
"Failing to plan is planning to fail." This sentiment is often credited to Winston Churchill but holds particularly true when launching a new business. As with any project, the time and thought a person puts into planning pays off down the road. A common reason why small businesses fail is they end up bankrupt or in court because they didn't consider and document their plans carefully.
This is because sometimes entrepreneurs are in such a rush to get started that they neglect the business plan. Rather than planning for the long-term, they begin offering the goods or services as best they can and confront challenges only when they arise. This falls into the "planning to fail" trap mentioned above.
A good business plan will start with the big goals and work down to details. As made famous in his TED Talk on leadership, Simon Sinek advises against just answering the what and how of your business. It is essential to start with why. Once you understand the people you want to reach and the impact you want to have, you can better target your business plan to include:
Your business goals
Outside forces that provide constraints or opportunities
Descriptions of your products or services
A financial analysis to determine the viability
A marketing and sales plan
An organizational chart showing necessary human resources
Funding requirements
Financial projections
These details in writing will guide your hiring, marketing, and operational decision-making so that you will be prepared to deal with storms when storms come.
Not Identifying Your Value Proposition
How does your product or service make life better for your customers? That is your value proposition – the unique way you can do a job or relieve pain in a way your competitors don't. Unfortunately, many small businesses fail because they don't distinguish themselves in a way that keeps customers returning and referring to others.
You may be familiar with the Business Model Canvas. This planning tool asks you to identify customer segments, channels you reach them through, relationships you develop… in addition to key activities, partners, revenue streams, and cost structures. Identifying the customer is the key point in finding your value proposition. Think of your customers as real people, not just walking wallets. What jobs do they have to do that you can help with? How do your products or services create gains for them or reduce headaches?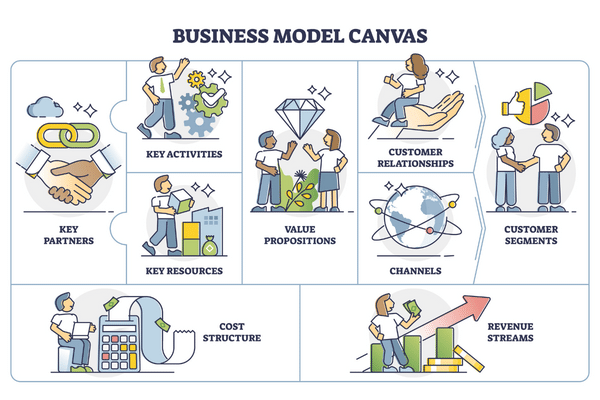 To use a couple of real examples, some companies clearly define their value proposition and succeed, whereas other companies fail to do so and close. First, let us consider a cautionary tale. Borders bookstores were ubiquitous through the 90s but went bankrupt in 2011, largely because their competition offered the same products without the enormous overhead of large retail stores. The experience of being in a bookstore, browsing books, and exploring new displays, wasn't enough to make customers lay down money to keep the business going. Borders succumbed because it could not offer a distinct value proposition.
On the other hand, some companies nailed the value proposition. Uber used technology to distinguish itself from taxi services – one tap on your phone, and a car with a rated driver comes directly to you, with a predetermined rate, using cashless transactions. They made getting a ride smart and easy. The customer's "job" is getting from point A to point B. The pain reliever Uber offered saved time and effort by using their app to find nearby drivers and delivering riders to their destination with minimal communication.
Tools abound for mapping your value proposition, and it is a worthwhile exercise to remember how you serve your customers so that you can keep your competitive edge.
Not Hiring the Right People
A great organization cannot be built without great people. Yet, how many organizations are as rigorous about hiring or as comfortable evaluating job candidates as they are deciding on an investment proposal? Unfortunately, the reality is that too many companies do not invest in ensuring a well-designed and executed hiring process. Therefore, failing to hire and retain the right people is another reason why small businesses fail.
Many entrepreneurs are hard workers but have little experience hiring and supervising others. Peregrine offers many resources to help you think through your recruiting, hiring, and retention plans and programs to help you manage others on your journey. Click here to discover a few of the online courses we provide to help you hire the right people and keep them.
Forgetting the Customer
Some businesses begin to devote themselves to their product or processes rather than remember why they are in business. Putting the customer first is about more than good customer service – designing your product or service, from conception to delivery, around your customers' wants and needs.
This takes the value proposition a step further. For every business decision, you want to think of your best customers and ask how your decision benefits them. Companies obsessed with their customers create loyal fans who will return repeatedly and who also rave about the company in reviews and online forums. Zappos is an example of a customer-centric company that makes every transaction a memorable experience for the buyer. The online shoe store has built a culture of excellence in customer service, winning many awards over the years and making the company a great workplace.
Doing it all Yourself
Finally, a reason why small businesses fail is because it becomes too heavy for one set of shoulders. The good news is that you can build a team to help you achieve your vision! Communication and delegation are keys to long-term success.
Team building allows you to do more of what you love while letting others contribute. Entrepreneurs who are new to leadership can benefit from professional development in teamwork, including online modules on Leading Teams, in-person workshops, or hybrid seminars. Investing in your leadership is one of the best things you can do for your business and your employees.