Simply put, AoL is the process for continuous improvement of academic programs and higher education institutions. The goal is to create, design, deliver, and improve program curricula to achieve learning goals and effectively demonstrate learning outcomes. AoL is an evidence-based approach for assessing learning outcomes, goals, and objectives, with the goal of continuous quality improvement. However, sustaining AoL practices is difficult for many institutions because they have yet to make AoL systemic. In this article, we will share some best practices and strategies your institution can use to make Assurance of Learning systemic.
Assurance of Learning First, Accreditation Second
Often colleges and universities will establish Assurance of Learning processes as a means for accreditation. It is essential to accreditors that institutions set the learning goals/outcomes in line with the nationally and internationally benchmarked standards, identify tools for measurements, measure learning, document processes and findings, and use results to discover their strengths and illuminate areas for improvement. Additionally, AoL processes help keep an institution accountable to its stakeholders – ensuring that they are working deliberately toward their school's established mission. Unfortunately, many colleges and universities struggle when they first try to implement AoL. Even more, schools will find it difficult to maintain their AoL activities between accreditation cycles and sometimes find themselves scrambling when they come upon reaffirmation. Lack of planning and sustained activity creates an unnecessary strain on staff and faculty and reduces the positive impact of AoL on education.
Quality is at the core of every higher education institution's mission and vision. Colleges and universities worldwide understand their responsibility to provide learners with programs and instruction that prepare them to be active contributing members of society. Institutions must view AoL as a process that leads to continuous improvement, achieving their mission, and serving learners rather than a means for accreditation. When schools focus primarily on accreditation or certification, it takes the focus away from the continuous quality assurance/improvement activities and the subsequent results. Putting accreditation is the forefront does not make for sustainable practice, as accreditation is not always visibly happening. However, schools that focus the conversation on AoL processes will find it is easier to maintain continuous improvement and be prepared for accreditation reporting.
Keep Everyone Engaged in Assurance of Learning
Once a college or university commits to keeping the focus on AoL, the next important step is gaining buy-in from all stakeholders and keeping them engaged. The specific stakeholders will largely depend on the institution's structure and size, but a commitment to AoL is always needed from faculty and academic leadership. Getting faculty and administration involved and invested in AoL is often the most significant barrier to making Assurance of Learning systemic.
↓ Jump down to download the Assessment Implementation Plan.
Challenge: Keeping Faculty Engaged
Keeping faculty engaged in the process of AoL is often a challenge. A faculty member's role may primarily consist of teaching and research, but their job is much more complicated in reality. Faculty must spend time conducting student-centered work, including updating course curriculum and materials, advising students, providing support to students who experience barriers to education or learning difficulties, writing letters of recommendation, serving on academic committees, and overseeing various student activities. Faculty also have institutional responsibilities, including serving on hiring committees, participating in self-studies, serving on committees, applying for grants, editing professional journals, and giving scholarly presentations. Cumulated, it is easy to see why faculty may struggle to stay engaged in AoL. Therefore, academic leadership is vital to making Assurance of Learning systemic.
The Role of Academic Leadership
Although the benefits of AoL are great, the administrative burden is also quite heavy. If leaders are not aware of the strain on resources, they are more likely to see failed processes, faculty who are burned out, or faculty who are not engaged in the process. Leadership plays a critical role in making Assurance of Learning systemic. For an institution to be successful, leadership and management need to have a comprehensive understanding of AoL and the assessment processes, including the time investment required for successful implementation and maintenance.
Additionally, an effective leader should prioritize communication to support AoL processes. AoL should be a regular topic of discussion, bringing it to the top of everyone's mind. Below are some ways that leadership can help improve communication around AoL.
Leadership must communicate the value of each team member's contribution to AoL. Dr. Cheryl Noll shared, "One of the best ways to engage your faculty is to communicate how they fit into the story and continuously share and reinforce the value of their contributions."
Organize or make available regular training. Utilize the resources provided by your accreditor or other partners. For example, Peregrine hosts regular webinars on topics related to AoL.
Communicate the purpose of assessment. Encourage faculty to think of the data collected as a flashlight rather than a hammer. The data shines a light on the areas where students learned the most, as well as areas where they did not. It is not a blunt instrument to punish perceived failure. By assessing learning and collecting data, an academic program can expand on the bright spots and take corrective measures where needed.
Provide a space for faculty to be involved in program-level discussions and planning. Ensure they have a voice at the table when program changes are being made.
Be intentional with how results are shared. Results should be shared and analyzed a minimum of twice a year, and there should be an opportunity to celebrate successes.
Eat an Elephant One Bite at a Time
Understanding the full scope of AoL will ensure that leaders are mindful of the resources, capacity, and time necessary to participate in the process. One of the ways leaders can use their knowledge of AoL is by ensuring that measures, targets, and expectations are realistic. For example, it is essential to help the team narrow their focus to a select number of areas they want to improve based on where the largest gaps exist when reviewing assessment data. Trying to improve in all areas of learning every year is not a viable plan as you are not likely to make very much, if any, impact if the team is spread too thin. Instead, a better course of action is focusing energy on one or two areas.
It is also helpful to focus on the most important items to measure. Measuring everything is not helpful as too much data can become unwieldy. Also, make sure that the targets you set are manageable. Dr. Katalin Kovacs shared, "All targets need to be realistic, achievable, with the objective of ultimately improving education." To ensure your college or university is collecting the right data and setting appropriate targets, use the following method:
Start with your institution's mission and learning goals. You must begin with understanding the key questions you need to answer and the problem you are trying to address.
Identify the measures that will answer your questions.
Map the data out to produce a complete view of what data exists and where.
Use the right tools to answer the right questions. Tools include comparative data, surveys, course assessments, project/assignment rubrics, program assessments, portfolios, alumni surveys, employer surveys, and internship supervisor rubrics.
Institutionalize the Assurance of Learning Process
One of the best ways to make Assurance of Learning systemic is institutionalizing it. Specifically, this means documenting all processes and tools and integrating AoL into other parts of the institution's operations. The process and tools should be documented, accessible, and easy to follow. The Assessment Implementation Plan template below provides you with an idea of the information that should be collected and made accessible related to assessment. To integrate AoL into college operations, try adding it to your onboarding process or make it a point to give an annual update to the entire institution. Most importantly, it is about consistency. AoL is an ongoing process, not a line in the sand. Institutions must continue to "close the loop."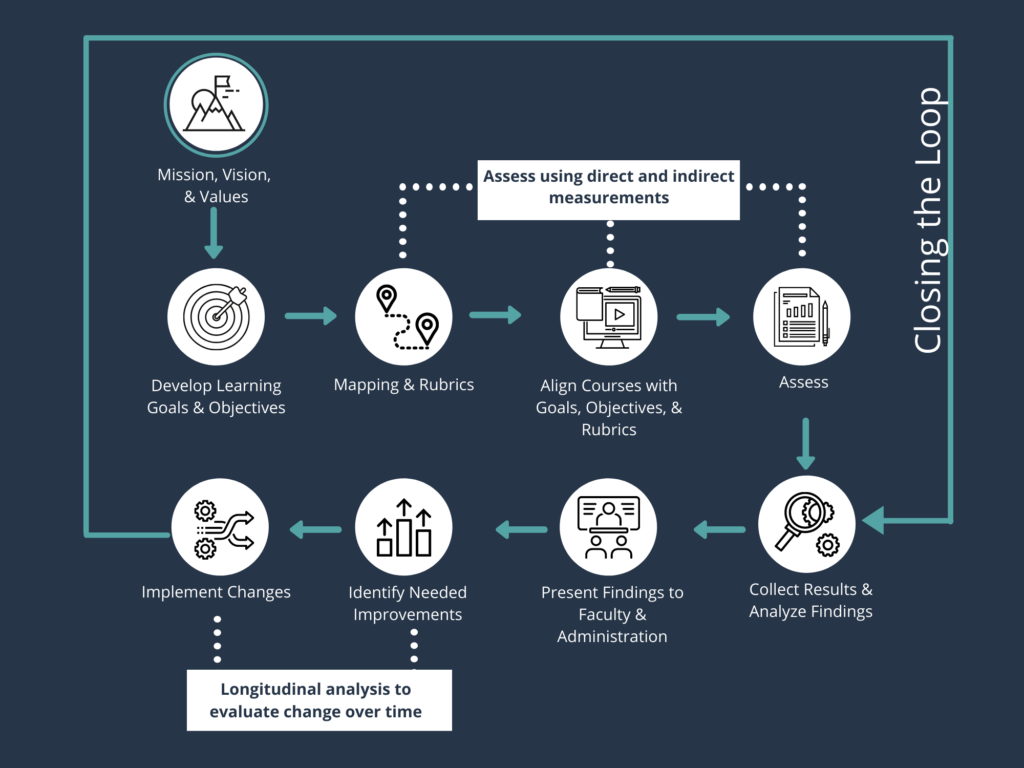 The following steps will help increase consistency:
Define the process – Create a single-source reference that everyone who executes the work refers to. Ensure the process is easy enough to follow.
Communicate the process – The process should not be buried in a file folder never to be seen again after the initial launch. Ensure that the process is communicated regularly.
Execute the process – AoL activities must be performed as specified by the process.
Final Remarks
Making Assurance of Learning systemic is often a challenge for universities and colleges. Part of the continuous improvement process is improving how we conduct quality improvement and assurance of learning. However, when processes are documented, results are communicated regularly, and wins are celebrated, making AoL systemic will become more efficient and effective.
Fill out the form below to download the Assessment Implementation Plan Template.