In 2020, we saw a surge in remote work. The pandemic forced peopled to set up makeshift offices in their kitchens while simultaneously homeschooling their children. However, as people began to adapt to working at home, the advantages to businesses and employees were realized. Today, employees want to stay remote or at least – hybrid. According to a Gallup State of the Workforce study conducted in May and June of 2021 of more than 9,000 workers, 91% said they want the ability to work at home at least some of the time. Specifically, the study found that hybrid work is the most preferred mode as 54% of those surveyed said they would like to split their time between work and the office. The preference for a hybrid work environment is motivated by reduced time commuting, increased well-being, work/life balance, feelings of increased productivity, and the flexibility to work in person as necessary.
According to Gallup, in September 2021, 45% of full-time employees in the United States worked from home either some or all the time. Given that this trend has stayed steady since May 2021, it is safe to say that remote and hybrid work is likely to last and even become the norm in the future.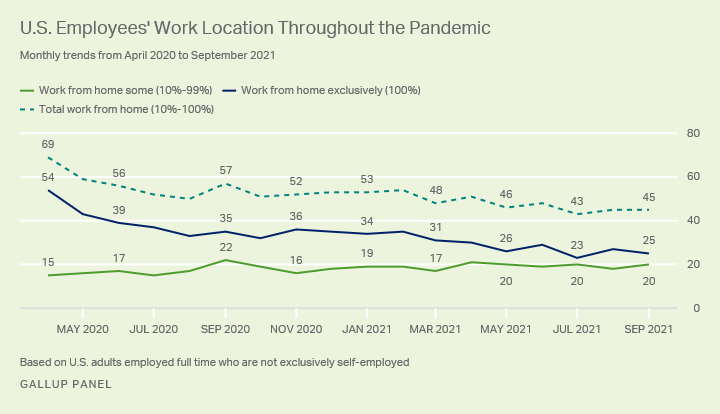 What is Hybrid Work?
Hybrid work refers to a business model that provides employees with a combination of remote work and office work. Typically, hybrid teams include a core group who work in the office while also employing workers who are fully remote. Another model that has gained popularity since the pandemic is that employees are part-time at home and part-time in the office. The hybrid workplace offers employees the flexibility needed to successfully achieve work/life integration, reduce stress, achieve greater productivity, and reap the benefits of in-person interaction. A study by Slack in January of 2021 found that flexibility is desired by workers and the primary motivator for pursuing a hybrid work environment.
Impacts of Hybrid Work on Productivity
Have you ever worked on a project that required you to focus? You begin to gain momentum and fully engage in the task at hand. The work flows easily, and you feel good about your progress. Then a coworker pops in for a quick question or a casual conversation. In that moment, you lose your focus and with that – your mental momentum. A study conducted at George Mason University had 50 college students write three timed essays. While they wrote two of the essays, the college students were interrupted at random times with various puzzles and math problems for 60 seconds at a time. In one instance of essay writing, interruptions were only provided during the essay planning stage. Then the students were interrupted during the writing portion of the second essay. Finally, the third essay was completed with no interruptions. The essays were then scored by trained graders. Unsurprisingly, the essays that were part of the interruption condition received lower ratings than the control essays (no interruptions). Interruptions have a close relationship with productivity and even quality of work. In a remote situation, workers find they can more easily regulate interactions. Even with family and pets at home, it is acceptable to shut the door and concentrate on work.
Conversely, productivity increases could derive from a fear that managers may think their employees are not working. Therefore, employees will work longer hours and take fewer breaks to soothe their anxiety about potential negative perceptions. Although productivity may go up, work satisfaction is at risk in this situation.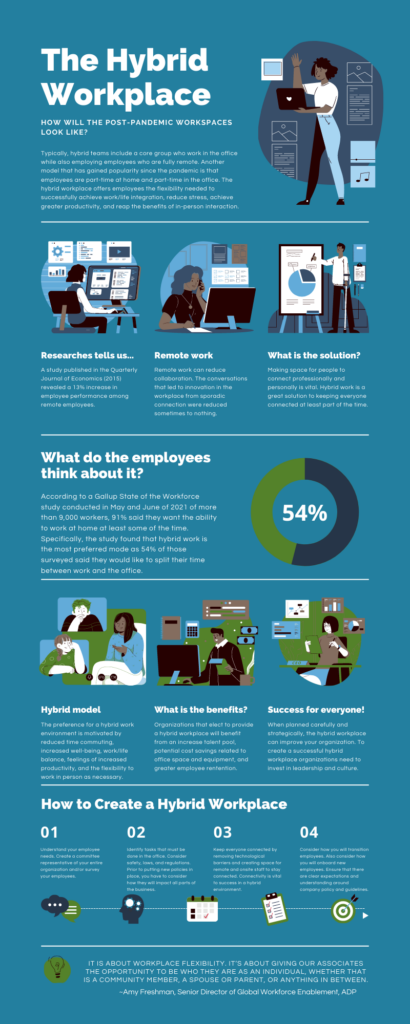 Overworking ourselves because we want to be seen as having integrity and a strong work ethic is not sustainable. For example, Microsoft found an increase in productivity among workers, which looked like a good news story on the surface. However, when they took a closer look at the data, they found that nearly half of the employees were working longer hours. Additionally, employees of a global survey reported that they felt overworked and exhausted. Leaders will have to stay diligent in helping their teams balance work demands and fears of unrealistic expectations to ensure that productivity does not come at the cost of morale. One way to effectively do this is to focus on results instead of hours.
Building Relationships in the Hybrid Workplace
One of the key criticisms of remote and hybrid work is that the relationships between colleagues are weakened by distance and technology barriers. Specifically, cross-functional collaboration was said to have suffered considerably because of the pandemic. The conversations that led to innovation in the workplace from sporadic connection were reduced sometimes to nothing, and people felt disconnected from their teams. Many employees felt that innovation and creativity were impacted as group brainstorming became more challenging. Teevan wrote in the Harvard Business Review, "While it may be tempting to equate high levels of employee activity with success, doing so misses the factors that drive long-term, sustainable innovation. We must expand the way we think about productivity to focus on well-being, social connections, collaboration, and the link it all has to innovation.
However, during the pandemic, leaders learned a lot about how they can support teams and keep those connections alive. For example, some companies have instituted companywide meetings that are used to help everyone sync up and feel connected. Often it is helpful to allow remote and hybrid employees to join meetings a couple of minutes early or if the meeting wraps up sooner than expected – continue to stay connected for purposeful informal conversation. Making space for people to connect professionally and personally reduces feelings of disconnection and allows for the type of conversations you often see in the office. Most importantly, leaders have learned that to keep employees connected, you must communicate often. Furthermore, they have learned that a hybrid environment can provide the best of both worlds – offering employees the benefits of remote work while continuing to support opportunities for in-person connection.
Also, criticism of remote work focused on workplace relationships do not consider the positive impact remote and hybrid work models have had on personal relationships. A survey of 1,000 workers commissioned by Miro found that nearly half of people reported their relationship with their live-in partners improved after they transitioned to working from home. Also, 62% of parents say their relationship with their children has improved. The unforeseen benefit of remote and hybrid work likely positively impacts employee satisfaction and quality of life.
Ending Remarks
Even though we are in our third year of the pandemic, many companies are just beginning to adapt to the changing workplace. Companies that have invested in solid leadership and an effective organizational culture will likely find the most success in creating a hybrid workplace. The increase in remote and hybrid work will forever change the workplace landscape and how we work. Specifically, we will continue to see how various work modalities impact productivity and workplace relationships.
Learn more about how you can increase productivity and build strong relationships in a remote or hybrid workplace by enrolling in Mastering the Hybrid Workplace. Whether you are a continuing team member or a leader trying to lead your team virtually, the program will provide you with practical tools, tips, and resources that you can use to set yourself up for success.