Course Description
The sudden surge in remote work in response to the global pandemic, will likely have a long-term impact on our workforce and how organizations operate. In the process of transitioning to a work-from-home environment, we have discovered a lot of challenges and pitfalls along the way. Some found the challenges associated with leading a virtual team. Others missed the connection they found during in-person meetings. Many struggled to maintain healthy boundaries which resulted in poor work-life balance. Today, we see more and more employers transitioning to a hybrid workplace that provides a mix of in the office and in our homes. Mastering the Hybrid Workplace will provide you with the knowledge, skills, and practices you need to be a team player, lead others, maintain a healthy work/life balance, and maximize productivity while working from home.
Brought to you by Peregrine Pathways, you will receive access to an engaging online course and a 90-minute on-demand seminar focused on application and hosted by our leadership experts.
Learner Hours: 17 | 17 SHRM PDCs
Upon completion of Mastering the Hybrid Workplace, participants will receive a certificate and digital badge in Leading the Hybrid Workforce.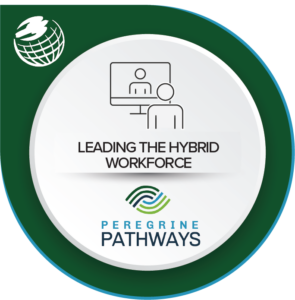 What will you learn?
How to create a productive home-office workplace.
Work-life integration as a remote employee, what common pitfalls to avoid and tips to keep you successful.
Time and project management tips in a remote workplace environment.
Employer expectations of remote employees.
How to effectively communicate as a remote employee.
How to increase collaboration with your remote colleagues.
Who is this course for?
Remote or hybrid employees who need best practices to successfully work from home.
Remote or hybrid supervisors and managers who want to learn how to best support their team virtually.
HR managers who want a better understanding of the benefits and potential pitfalls of remote teams.
[commerce Item=329]