Proficiency in academic writing is vital to the success of students. However, it is often the case that learners do not have the skills and knowledge necessary to write for the classroom. Although prerequisite and corequisite college English and writing courses can help prepare learners, they often add more time to a degree and an added expense. Using competency-based modular instruction is a potential alternative to corequisites and prerequisites for college writing. For example, Peregrine provides schools with Write & Cite®. This 8-section module can be customized to teach APA, MLA, or CMS documentation styles, along with instruction regarding proper word choices, tone, paper organization, literature-based research, and techniques to avoid plagiarism.
The module is designed to give learners the knowledge and skills to write, format, and properly cite academic papers, discussion posts, theses, and dissertations. The effectiveness of using Write & Cite® to ensure student writing success is illustrated in the following case study from PennWest California (formerly known as California University of Pennsylvania). Keep reading to see how Write & Cite® can be used in place of a college writing prerequisite or corequisite.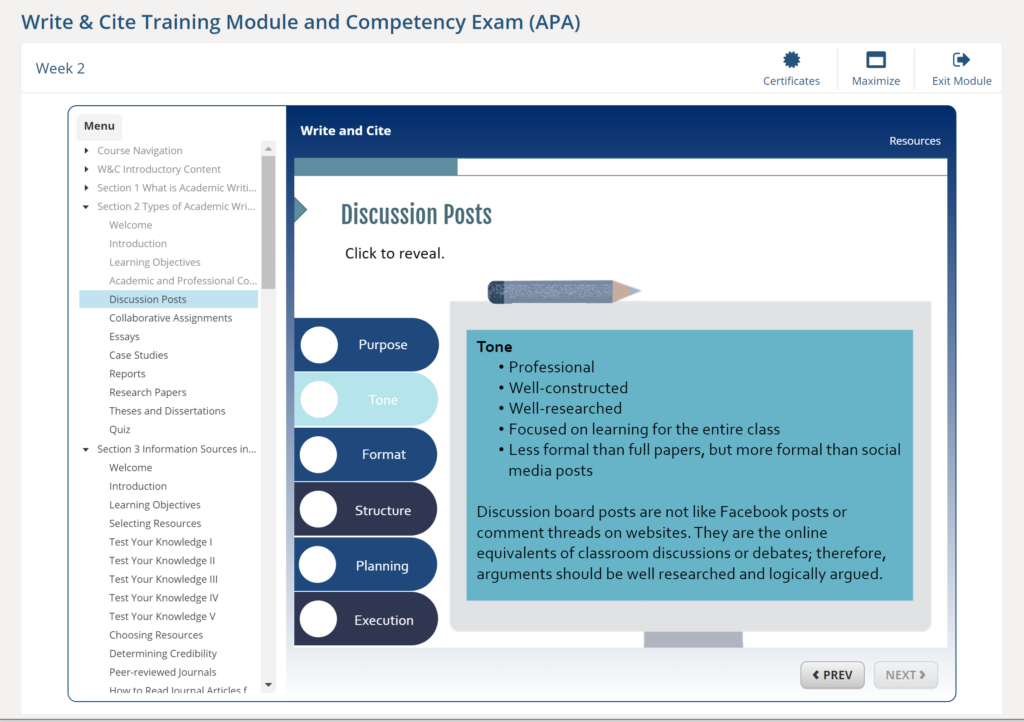 The full case study will be available in our upcoming whitepaper, Evaluating and Improving Student Writing to be published in the late fall of 2022. The whitepaper will include two fantastic case studies and four years of data analysis. To request a copy of the whitepaper when it is published, fill out the form below, and you will be one of the first to receive access.
Case Study: PennWest California
Written by Elizabeth H. Jones, PhD and Stephanie J. Adam, DBA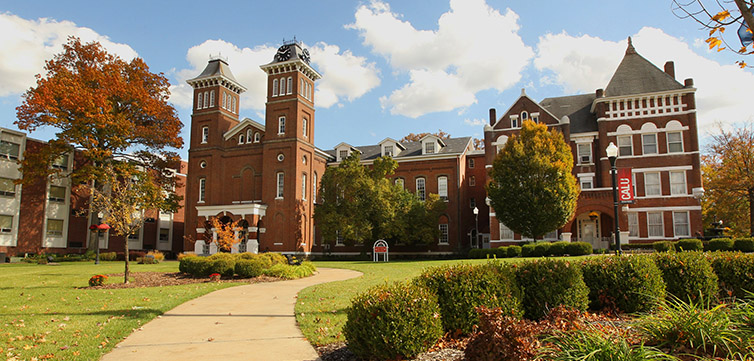 In our MBA program at PennWest California, we assess student-learning outcomes so that we can continue to improve upon essential program elements: course design, instructor proficiency, student experience, and applicability to professional practice. Through the incoming and outbound data, we obtain, we can better track student success and identify "pain points" for our student body. As a result, we can re-evaluate our courses using data and student feedback as indicators of need versus intuition or personal preference. General research on pedagogy and/or course design best practices can only take us so far. This information provides us with real-time insight into the needs and experiences of our student body. It is an invaluable tool for quality improvements and checks/balances. 
One of our MBA program objectives is for graduates to craft and present evidence, processes, and decisions through effective oral, visual, and written communications. Clear, cogent writing distinguishes highly successful people—students and managers alike—from their peers. It is genuinely exciting to watch our students as their thinking processes and writing abilities grow so quickly from their Foundations course where we introduce writing and research, through the program, and into the capstone course, where their communications skills are challenged and assessed.
Using Modules and Assessment to Reimagine Prerequisites 
We have implemented several resources from Peregrine Global Services into the program, including the Write & Cite Academic Writing Readiness course, other online modules used for academic leveling (ALCs), and a program-level outbound exam to capture student retained knowledge. These modules and exams track the progress of our students as they move through the MBA program.
Our MBA Foundations course is required of every student as one of their first two courses in the program. Initially, students utilize a bundle of ALCs and Write & Cite to ensure they are at a desired level of proficiency at the outset of the program. Using the Write & Cite module as a foundational activity, we can quickly assess the level of student familiarity with formal writing and research as part of a course-wide writing sequence developed with our librarians. In every unit, students address an important business topic, engage in library or internet research, and practice writing in a discussion, short essay, or activity where the mechanics of writing, integration of sources, and APA formatting are graded as separate rubric elements. This has revolutionized how we view pre-requisites and has also provided a gateway for students from all academic backgrounds into the rigor of MBA-level learning. From personal experience teaching in the program before and after we implemented this strategy, I witnessed each semester the significant learning and reflection that occurs when we combine the online modules with reflection and discussion on how learning can and will improve.  
The Write & Cite on its own is likely the best investment our students make when they begin our program. Finding ways to meet the individual needs of our diverse student body has been challenging as our MBA learners come from many disciplines (mostly non-business) and have vastly different familiarity with formal writing. Students struggle with the basics of APA-formatting and research, and this provides them with an easily accessible tool for reference and improvement. Some learners enter immediately after completing undergraduate programs, many come with existing advanced degrees outside of business, and still others have not been in a classroom for many years. Many have never studied online. Therefore, it is hardly surprising that the Write & Cite section on writing good discussion posts is among the most impactful. Unlike supplemental materials that many students do not bother with, we are confident that every MBA learner will understand what we are looking for in discussions because their understanding has been assessed within the Write & Cite module. Faculty teaching electives concurrently with the Foundations course notably remark they can tell when the concepts from Write & Cite click in: discussion boards flow better and APA formatting becomes apparent. These faculty also gently refer students back to the Write & Cite module at the beginning of term when students still struggle with academic writing basics. 
The Write & Cite on its own is likely the best investment our students make when they begin our program.
As MBA program director, I witness significant growth in most students in the first class and then get to see the fruits of their knowledge as they take further concentration/core classes throughout the program. Although there is still wide variation in writing ability upon degree completion, each student has progressed in this important skill. On the MBA exit survey, student enthusiastically agree that they are better able to communicate their ideas as a result of the program. 
Promoting a Culture of Quality
As we work to address the needs of a continuously changing student body, we use data, experience, research and student input to help guide us on our quality journey. Our goal is not simply to get students the degree they seek but to ensure they receive critical knowledge that will help them be leading practitioners in their field. This requires that we use all available information to make the best quality decisions regarding the areas mentioned above: course design, instructor proficiency, student experience, and applicability to professional practice. It also asks us, as instructors/designers, to continuously "check in" and make updates to courses continuously.
We have a specific curriculum committee dedicated to the MBA program so that we can evaluate progress, improvements, and necessary curriculum changes to grow as a leader in this space. In addition, the data we collect from Write & Cite, the ALCs, and the outbound exam are used to guide our decision-making as we examine the structure, format, and components of each of our required courses within the MBA.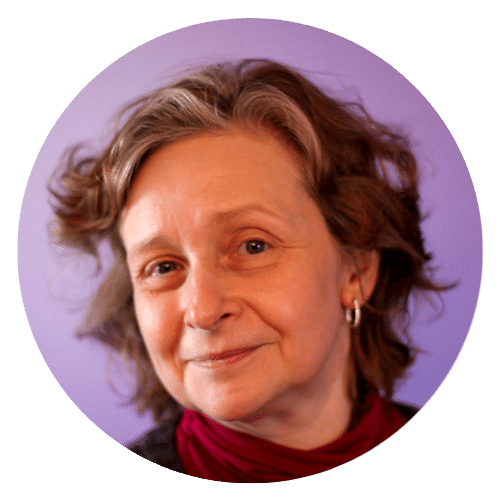 Elizabeth H. Jones, PhD – PennWest California
Dr. Elizabeth H. Jones is an Associate Professor of Integrated Management at PennWest California, where she focuses on MBA and undergraduate capstone experiences and coordinates the university undergraduate online Integrated Business program. She earned her Master of Science and Doctor of Philosophy degrees in Organization and Management from Capella University. After many years in an adjunct capacity in Maryland, Dr. Jones began full-time university teaching in 2010 after she retired from 31 years of Federal service. She came to Cal U in 2018 to assume her fully online position with an emphasis on online course design and program assessment. Her research interests include women's leadership, leadership pathologies, adult learning, learning assessment, and online pedagogies.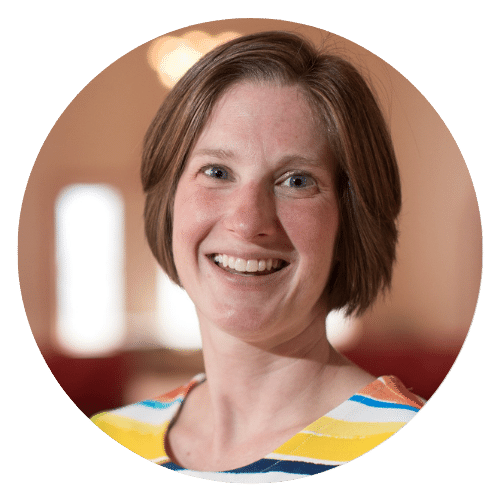 Stephanie J. Adam, DBA – PennWest California
Dr. Stephanie J. Adam is an Associate Professor of Management, focusing on Human Resource Management, and the MBA Program Coordinator for California University of Pennsylvania (soon to be Pennsylvania Western University). She earned her Bachelor's degree in Hospitality Management from Mercyhurst University, her Master of Science degree in Human Resource Management from La Roche University, and her Doctorate in Business Administration – Human Resource Management emphasis from Northcentral University. Prior to joining the full-time faculty at Cal U in the fall of 2016, Dr. Adam taught for several universities online and in person as an adjunct faculty member. In addition, she worked for seven years in Human Resources for a small manufacturing company in Western PA while attending graduate school prior to that. Her research interests include innovation in MBA design, online learning best practices, service learning, and small business-education alliances in the classroom.
Want to see Write & Cite® in action? Schedule a meeting with a member of our team! You will learn more about how you can use Write & Cite® in place of a college writing prerequisite or corequisite and receive a comprehensive demo!