Assessment is a critical part of AACSB accreditation and impacts the quality of education. To ensure that institutions meet the highest student learning outcomes standards, they must follow the current AACSB assurance of learning standards, which require the collection of direct and indirect measures of student learning.
While AACSB accreditation is a significant achievement, the goal of assurance of learning is to improve programs. Therefore, institutions should view the process as something other than a compliance exercise but rather as an opportunity to improve. 
Assessing Student Learning Outcomes
While many institutions have a mature quality assurance system, some are still in the early stages of developing their assessment process. Regardless of their stage, the assessment objective should always center around student learning. The AACSB assurance of learning process begins with identifying student learning outcomes or competencies derived from institutional and program missions.
Whether your institution is in the early stages of developing your assessment process or you have a mature quality assurance system in place, the assessment objective should always center around student learning. This starts with identifying student learning outcomes or competencies derived from institutional and program missions. Once these competencies are identified, the next step is to ensure that they can be measured by determining the proper tools and establishing targets. And collecting data is only the first step – analyzing and drawing conclusions from that data is just as important.
But assessment doesn't stop there. Institutions must also share the results of their assessment activities with stakeholders such as faculty, employers, or alums. These stakeholders can provide valuable feedback and trigger changes or improvements to the curriculum, leading to significant impacts on student learning. So don't view the assessment process as a compliance exercise – view it as an opportunity to improve and make a difference in the education of your students.
AACSB Standard 5
Let's dive deeper into Standard 5 of the AACSB accreditation process, which focuses on assurance of learning (AoL). Fulfilling the specific requirements of this standard means having a well-documented AoL process that identifies the best way to manage the assessment of your learning objectives. But don't worry; not all competencies need to be measured every year. Your assessment cycle is going to vary depending on your program, and you can assess specific competencies in one year and others in another year. It's essential to consider the needs of different student groups, such as full-time, executive, part-time, or online students.
When it comes to assessing the quality of your programs, direct and indirect measures are crucial. As you can see in Table 5.1 of the AACSB standards, this table starts with competencies, and you must identify them based on the program's mission. Competencies can be knowledge-based or skills-based. But AACSB won't dictate how many program competencies there should be or what they should be. That's up to you and your institution.

Setting a performance target for each competency is crucial to achieving your objectives. You must also specify the tool you're using to assess the competency in the "How is this assessed" column. It could be a formative assessment at the course level, a summative assessment like a thesis or standardized testing, or even an alum survey as an indirect measure after graduation. The "where is it assessed" column is equally important, indicating whether you're assessing competencies during the program, at the end of the program, or after the program has been delivered.
Once you've collected and analyzed the data in the "results" column, you'll compare them against your performance targets. But don't stop there! In the "improvements" column, you will document changes to your program, introduce new courses, and make improvements. It's important to continuously assess your AoL process, questioning whether you're evaluating competencies frequently enough or using the right tool or rubric and aiming to improve.
If you're going through initial accreditation, Table 5.1 is a valuable tool to help you develop a robust AoL system. But even if you've already gone through AACSB accreditation, it triggers a continuous improvement process for your programs. So, let's use this as an opportunity to enhance the quality of education and create meaningful change for our students.
Peregrine Global Services is a proud partner of AACSB. It is together, we can promote excellence within Business Administration Education.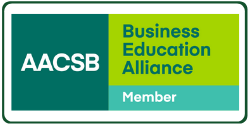 AACSB and Direct and Indirect Measures
Assessing student learning outcomes is a critical part of AACSB accreditation, and it involves both direct and indirect measures of student learning. But what does this mean for institutions, and how can they use this information to improve their programs?
First, let's talk about direct measures. These are assessments that provide concrete evidence of learning. They include standardized testing, portfolios, theses, and projects. Ensuring that these assessments align with the competencies specified in the program is crucial. Using grades to measure direct learning is not recommended because they may not accurately reflect a student's progress toward achieving specific competencies.
On the other hand, indirect measures like surveys gather data based on perceptions, feelings, and values. Examples include end-of-program satisfaction surveys, alum surveys, and employer surveys. Therefore, AACSB recommends that institutions use both direct and indirect measures to substantiate that student learning is taking place.
Analyzing Your Data for Assurance of Learning
One tool that can help with this process is Peregrine's Business Administration Assessment, which is specifically aligned with AACSB standards. This tool is designed to assess and measure retained student knowledge of program competencies and is used for internal and external programmatic evaluations. With over 500 institutions using Peregrine and having administered over 2,000,000 exams, it provides a large amount of data for benchmarking purposes. This is essential in demonstrating the value of your program to stakeholders such as creditors, alums, and prospective students.
In summary, leveraging direct and indirect measures is crucial to ensure the quality of education and meet AACSB accreditation standards. However, collecting data is just the first step; analyzing it and making necessary changes are just as crucial to improving your program continuously. Peregrine's Business Administration Assessment is a useful tool for this process and provides valuable benchmarking data.
Want to learn more about how Peregrine's assessment aligns with AACSB requirements? Download the guide below.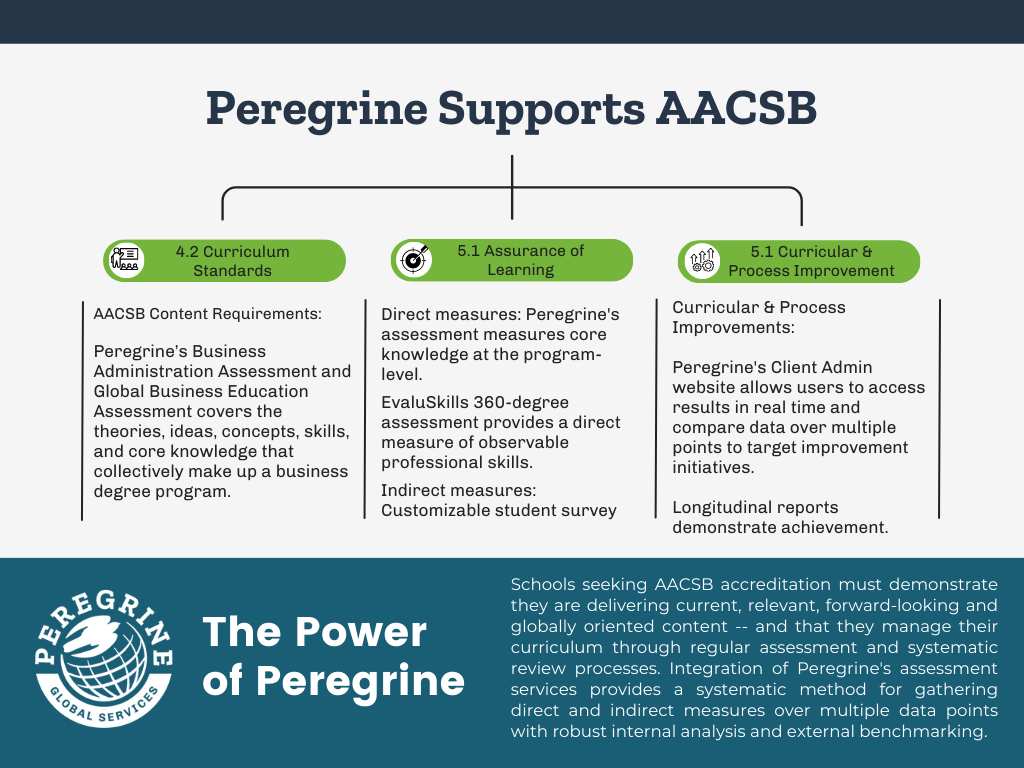 When assessing your institution's assurance of learning process, benchmarking against external sources can provide valuable insights. That's where Peregrine's Business Administration Assessment comes in handy. Not only does it provide valuable subject-level data and longitudinal analysis, but it also allows you to select up to five external benchmarks for comparison.
But that's not all. Peregrine's aggregate reports offer a real-time look at the number of exams and institutions you're benchmarking against within the aggregate pool. This can help you easily identify areas for improvement and pinpoint what types of errors students make when selecting incorrect answers.
Using a tool like Peregrine's Business Administration Assessment can help institutions benchmark, demonstrate program value, and identify areas for improvement in their AoL process. As AACSB mandates that programs resulting in the same degree must have the same quality, it's crucial to examine whether there are any differences between groups of students.
One way to understand why data is presented a certain way is by utilizing a program cohort comparison. For instance, if marketing majors perform poorly in a specific subject area of your summative exam, examining the program requirements for that major may help identify any necessary adjustments to strengthen that area.
Moreover, it's vital to compare your institution's target groups, competencies, and student performance with other institutions and programs like yours. This can provide a perspective on where your students excel and struggle and how their performance compares to other schools' results. By benchmarking your results, you can gain a perspective on where your students excel and struggle and how their performance compares to other schools' results.
DOWNLOAD A QUICK GUIDE TO PEREGRINE'S REPORTS
Choosing an Assessment Tool
Developing a robust Assurance of Learning (AoL) system is no easy task, and it requires a holistic approach to ensure that the assessment strategy is fit for purpose. Your assessment strategy should meet programmatic and institutional objectives and derive from your institutional mission. As you develop your AoL process, it's essential to think about it holistically and view it as a process improvement. This means assessing your process regularly, exploring different options, and developing new tools or using external ones.
Your faculty should take ownership of the process as key stakeholders in the AoL system. Faculty-led high-quality assessment should be an integral component of your instructional teaching process. Presenting assessment information in a meaningful way is essential, making it easy for stakeholders to understand and use.
When planning your AoL system, you must ensure it addresses all alternative instruction delivery methods, such as online, asynchronous, or in different countries. AACSB is principles- and outcomes-based, allowing for diversity, which means you have the flexibility to develop an AoL system that aligns with your institutional program.
As you develop your AoL system, remember to strive for continuous improvement. Your curriculum improvement should emerge from your AoL cycle and the data you collect. Your AoL system should be systematic and allow you to make changes and evaluate without being overly complex or robust. Ultimately, the goal is to impact the quality of education and ensure that your students achieve the competencies set forth by your institution and program.
To dig a little deeper into leveraging Peregrine's Business Administration Assessment for AACSB assurance of learning, watch the recorded webinar below.