Noncredit courses provide learners with a fantastic way to gain knowledge, learn a new skill, upgrade existing skills, and enrich their understanding of a broad array of subjects. Noncredit courses often are sought out by adult learners interested in industry-specific credentials, adult basic education, professional development, or learning more about a hobby or special interest. In addition, such programs foster communities of individuals who value life-long learning and help people to reach their full potential. Also, noncredit courses more quickly serve local industry needs as they provide a just-in-time solution, whereas credit-based programs take time to develop.
Another seemingly obvious benefit of noncredit programs is they can act as a bridge to enrollment in for-credit courses. Yet, noncredit programs often operate separately from credit programs, and there is an apparent disconnect between the two. Unfortunately, this creates barriers to education and confusion for learners. A variety of reasons for the disconnect exist, but primarily it is a systemic issue tied closely to the infrastructure and culture of an institution. However, there are steps colleges can take to align credit and noncredit programs effectively.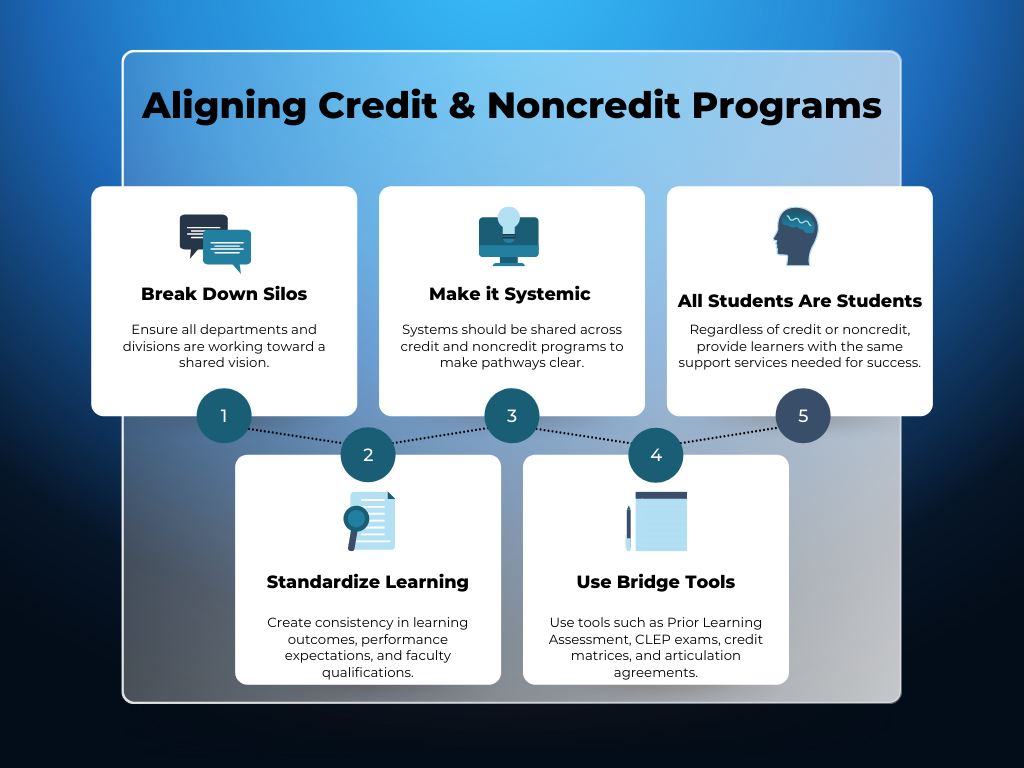 Break Down the Silos
It is very common for different departments to operate in their own silos instead of contributing to an organization's unified objectives and direction. Unfortunately, silos can bog down a change initiative (like aligning credit and noncredit programs), weaken the organization's trust, duplicate work, and create a rivalry between departments. If you are wondering if your institution is siloed, observe a cross-departmental meeting. Look to see if individuals from various departments are truly collaborating and taking an interest in each other or if they only express interest in their departmental priorities. If you have departments operating in their own compartment, you will notice there is very little concern or thought for the work and priorities of others.
To break down those troublesome silos, all employees and leaders must be operating with a unified vision. Although you may have a vision statement, each department could interpret the vision and their contribution to it differently, leading to a disconnect. Therefore, ensure your organization nurtures a unified vision the entire institution understands completely. The vision should be communicated often, and there should be a shared understanding of how each department contributes to the vision.
Leadership is key to effectively nurturing a unified vision to break silos and allow for change. Specifically, such an endeavor requires a transformational leadership style. Transformational leadership effectively motivates teams to embrace innovation, improve morale, and increase collaboration and communication.
Make Aligning Credit and Noncredit Programs Systemic
Aside from culture, it is frequently challenging to align credit and noncredit programs because systemic issues do not allow for seamless integration between the two departments. Therefore, institutions must ensure a shared infrastructure that supports alignment and allows learners to cross between an institution's noncredit and credit divisions easily. All systems, policies, software, and processes should support the alignment. For example, data management systems sometimes are not shared between programs, but such proves to be a significant obstacle to aligning programs. An effective strategy is to improve and streamline registration management, student information, and tracking of learner outcomes across programs. Ideally, a single system would provide learners with a single student ID and a single transcript that denotes noncredit credentials and credits earned.
↓ Jump down to download the Noncredit to Credit Course Articulation Template.
Treat All Students As Students
A mindset shift may need to happen within an institution to align credit and noncredit programs effectively. A key mindset shift is to think of all students, regardless of program, as students of the institution. Furthermore, all students should have access to the same available student support services, whether academic advising, tutoring, the library, or career services.
One institution successfully created a holistic model for supporting all students. In 2018, Prince George's Community College created a new division to act as a bridge between their noncredit and credited programs called Teaching, Learning, and Student Success. The school took a student-centric approach and brought together noncredit and credit programs along with the student services to create the new division. By removing credit and noncredit labels from students and opening access to all resources, Prince George's Community College was able to develop clear pathways for learners to move from noncredit courses to credited programs in which they were well supported along their journey.
Strengthen the Articulation between Credit and Noncredit Courses
There are a variety of bridge tools institutions can use to strengthen how noncredit courses translate to academic credits. Some schools will create formalized articulation agreements or internal equivalency agreements to illustrate how a noncredit course, industry certification, and credited course articulate. Another method is to cross-list courses within a learning management system and standardize learning outcomes, performance expectations, and faculty qualifications between credit and noncredit courses. Finally, Prior Learning Assessment (PLA) has become a common method for providing credit to students who can demonstrate competency based on work or noncredit course experience and education. Prior Learning Assessment (PLA) credits help bridge the gap between higher education and the real world.
Having these formal systems in place makes it easy to capture learners who don't yet feel ready to enroll in college but are looking to gain skills needed for employment. Collin College in Texas standardized and linked their courses within their learning management system to ensure translating noncredit courses into a credit course was seamless for students and school officials. Their approach meant learners had multiple entry points into education and could effectively connect credentials to degrees and higher education to employability.
Conclusion
Noncredit courses and programs play an essential role in providing education to various learners, including adult students and displaced workers. Furthermore, they act as an additional entry point to education and should provide a clear pathway to the workforce. By aligning credit and noncredit programs, institutions can effectively build a strong workforce, better serve their communities and industries, and impact student success. To ensure higher education institutions have the resources to meet workforce and industry needs, we have developed online and customizable competency-based certificates that you can easily adopt and provide to your learners. Learn more.
Fill out the form below to download the Noncredit to Credit Course Articulation Template.