It is that time of year again for annual performance reviews. Managers are frustrated by the process. Employees feel anxious about their upcoming reviews despite their stellar performance. HR is standing by, ready for the wave of paperwork that will yield little to no results.
Criticism of annual performance reviews is not new. Those not in favor of performance reviews complain that they cause unnecessary anxiety, are subjective measurements not based on data, may not provide necessary recognition, and don't adequately set up an employee to learn and grow in their profession. Another tool for evaluating employees and leaders that addresses issues of traditional performance reviews is the 360-degree evaluation. It is best used with a performance review or another consistent feedback process. If implemented correctly, 360-degree evaluations are a powerful way to promote the growth and development of all employees at every level. So, let's dig in – what is a 360-degree evaluation?
What is a 360-degree evaluation?
360-degree evaluations go by several names, including 360-degree feedback, 360-degree assessment, and 360-degree performance review. Essentially, it is a process for measuring employee performance by utilizing feedback from peers, employees, clients, supervisors, and members of other teams. Each evaluator is asked to share their view of the employee or leader's behavior, skills, or performance. Additionally, it is common for the evaluation process to include a self-evaluation, which allows employees to see how their self-perception compares against the cumulative feedback of their evaluators.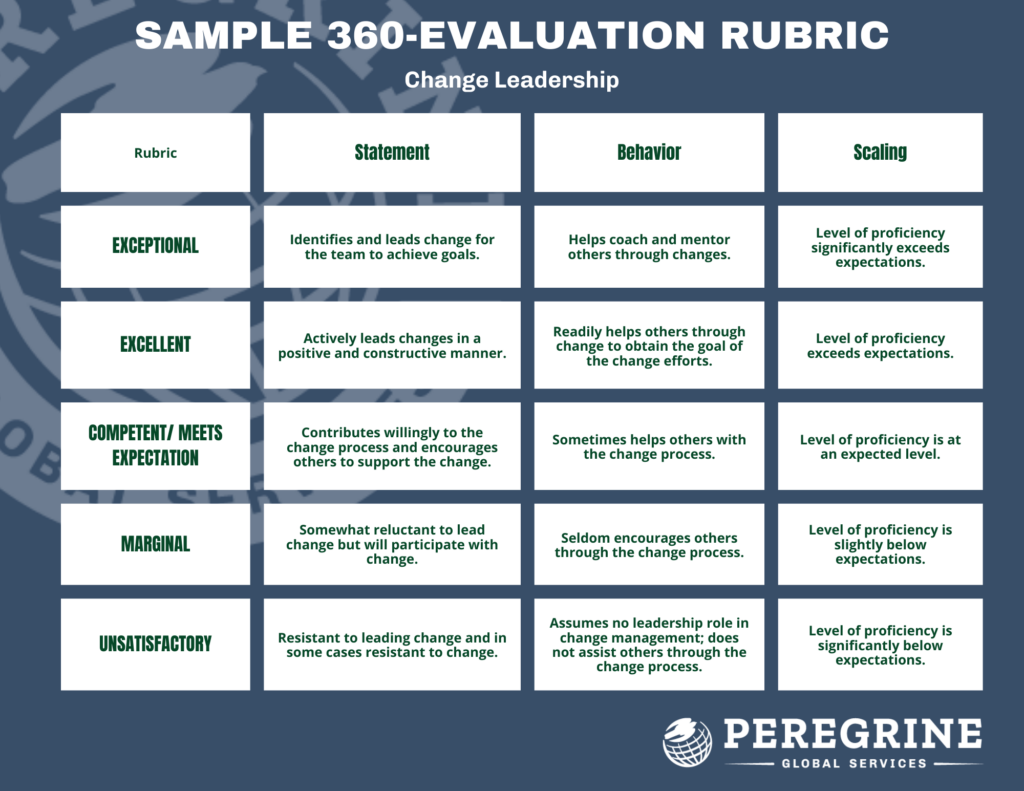 Benefits of a 360-degree Evaluation
It provides a more objective way to measure skills and competencies that align with the operations, values, and mission of an organization. Depending on the structure of the rubrics used to assess skills, 360-degree evaluations can be a much more objective measure of relative skills. This is especially true when the evaluator is guided to focus on behaviors rather than the individual they evaluate.
It produces more well-rounded feedback. You may have a team member that is great when customer-facing but struggles to work as a team player internally. Potentially you have an employee who works well with their manager but often fails to meet deadlines for other teams. By utilizing a 360-degree evaluation, employees and leaders will be more likely to receive holistic feedback.
It is essential to identify strengths and areas for improvement at an individual and organizational level. It is important to use an evaluation tool to provide you with actionable data. If the 360-evaluation utilizes a Likert scale rubric, it is much easier to tabulate results and track changes and trends. Also, this can help an organization figure out where to focus its training and development efforts.
It provides a psychologically safe way for employees to give feedback to their managers without fear of retaliation. The 360-degree evaluation process makes better managers and keeps leaders accounting for their decisions and impact. Therefore, providing leaders with an invaluable tool for growing their leadership abilities.
Increases self-awareness. One of the most significant benefits of 360-degree evaluations is that it highlights any potential "blind spots" a person may have in a safe manner. Also, it might alert those to strengths they have that they were unaware of or felt inadequate in – boosting confidence and morale.
Best Practices for a 360-Evaluation
A 360-degree evaluation is a great tool for organizations of all types and sizes, but it must be implemented carefully to be effective. Common mistakes organizations make when operationalizing a 360-degree evaluation include:
Not giving enough attention to the skills to be measured.
Focusing too much on pieces of the feedback rather than looking at broader themes.
Not using the report as a tool for continued coaching and mentoring.
In addition, feedback should not be an isolated moment in time but a regular process that continues to nurture an employee or leader's strengths and helps them mitigate any shortcomings. Utilizing the following best practices will ensure you avoid the pitfalls of poor planning and execution and reap the benefits of a 360-degree evaluation.
Establish goals for the 360-degree evaluation. Establish your goals and ensure that your organization, from top to bottom, understands the purpose of the evaluation. It is best to use a 360-evaluation strictly for development purposes. When feedback is tied to performance rating, pay, or promotion, it can negatively affect the reliability of evaluations or sometimes be viewed as a political tool.
Make certain skills and evaluators make sense. It wouldn't make sense to have a team of engineers who rarely encounter a customer be evaluated by one of your regular customers. It may make more sense to assess an entry-level position on their ability to adapt to change rather than lead change.
Focus on strengths rather than weaknesses. Use a strengths-based approach to development to see the best results. Although weaknesses can be mitigated, employees and leaders should understand how to use their strengths to contribute at a greater level to the organization first.
Adequately prepare employees and evaluators for the evaluation. Provide training and information to employees and evaluators to understand the purpose of the review, their role in the evaluation, and what they can expect from the results. Ensure everyone knows the feedback is meant to impact an individual's growth positively.
Utilize the results to create a professional development plan. The most important tip is to support employees after the evaluation. Managers and supervisors should help employees create an action plan. Also, ensure your organization is ready to provide the resources and opportunities needed to follow through with the action plan. The evaluation results should be used as a positive tool for continued education, coaching and mentoring, and further reviews.
What a 360-degree Evaluation Looks Like in Practice
What does a 360-degree evaluation look like in practice? The following example shows how a 360-evaluation can be used to promote the growth and development of employees and leaders.
Mountain West Credit Union Association (MWCUA) is a regional tri-state trade association representing 119-member credit unions, 4 million credit union members, and $58 billion in assets throughout Arizona, Colorado, and Wyoming.
The Leadership Institute began in 2011 to help develop the leadership competencies for the member credit unions of the MWCUA. The purpose of the Leadership Institute is to develop leadership values, skills, and actions for first-line supervisors, managers, and other high-potential team members. The Leadership Institute for 2020 had a total of 34 participants. The Leadership Institute included the completion of a 360-degree evaluation – EvaluSkills: Workplace Skills Assessment. EvaluSkills was administered before the first workshop in March 2020 (pre-program evaluation) and again the month after the last workshop in November 2020 (post-program evaluation).
Program and Evaluation Framework
The program is based on the BE-KNOW-DO model of leadership and was structured to produce the learning outcomes related to the various skills and competencies that leadership should be able to demonstrate.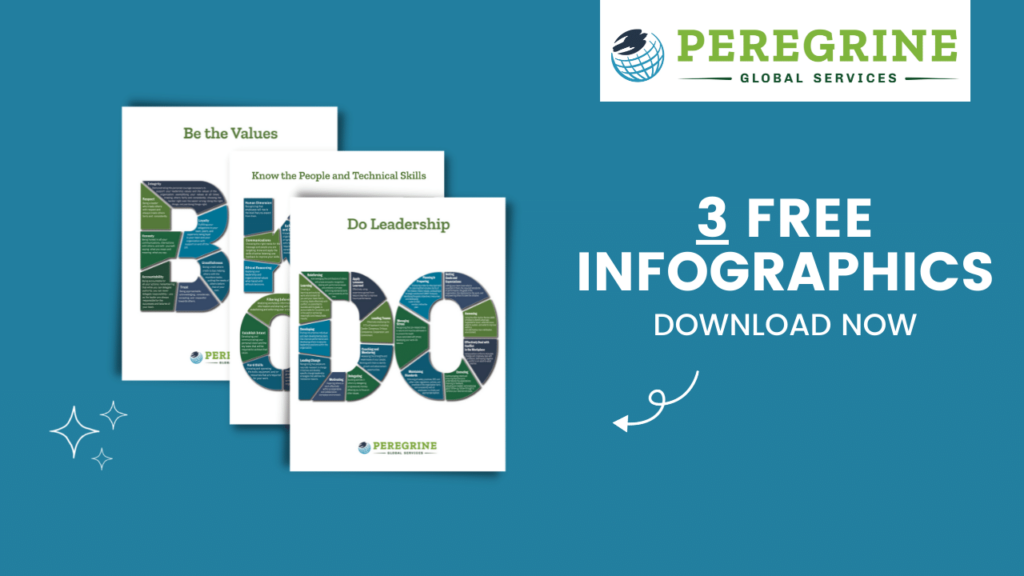 Then a custom evaluation aligned with those learning outcomes was created to measure each participant's relative proficiency in each area. Additionally, the assessment provided evaluators with an opportunity to give written feedback along with their ratings. Skills and competencies evaluated include:
Change Leadership
Ethical
Value Diversity
Fairness
Emotional Control
Decision-Making
Leading by Example
Listening
Responsibility
Workplace Communication
Building Others
Choosing Correct Style
Impeccable Character
Open-Minded
Community-Minded
Mitigating Conflict
Upon completion of the evaluation, participants received a Participant Report and created an action plan to be used throughout the program. Each participant reviewed their action plan with their immediate supervisor so the supervisor could help the participant with continued leadership development. The action plan includes areas to sustain (strengths) and improve (shortcomings).
To help the participant focus on specific measures, the EvaluSkills Action Plan includes 44 specific suggestions organized into developing others, emotional intelligence, exemplifying values, giving and receiving feedback, leadership, relationships within the team, senior leadership, supervision, workplace communications, and workplace perception.
360-degree Evaluation Results
In the MWCUA case, a positive change was found for all skills based on the evaluator scores. Interestingly, while the average evaluator score rose during the post-program assessment, the average participant self-score decreased for several assessment items. Participants rated themselves less proficient in several selected skills after their training. At first glance, this may seem to be a confusing result. Still, it makes sense considering the Dunning-Kruger Effect in which people lacking a particular skill cannot recognize its deficiency.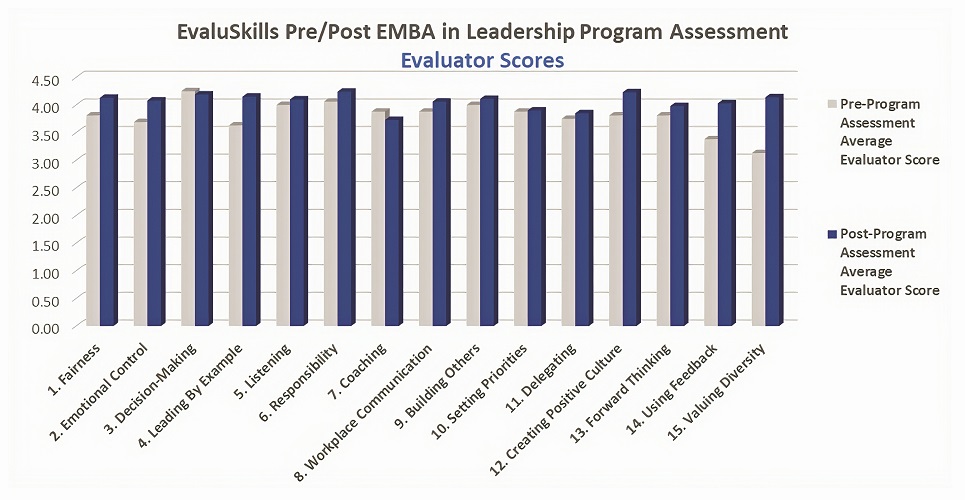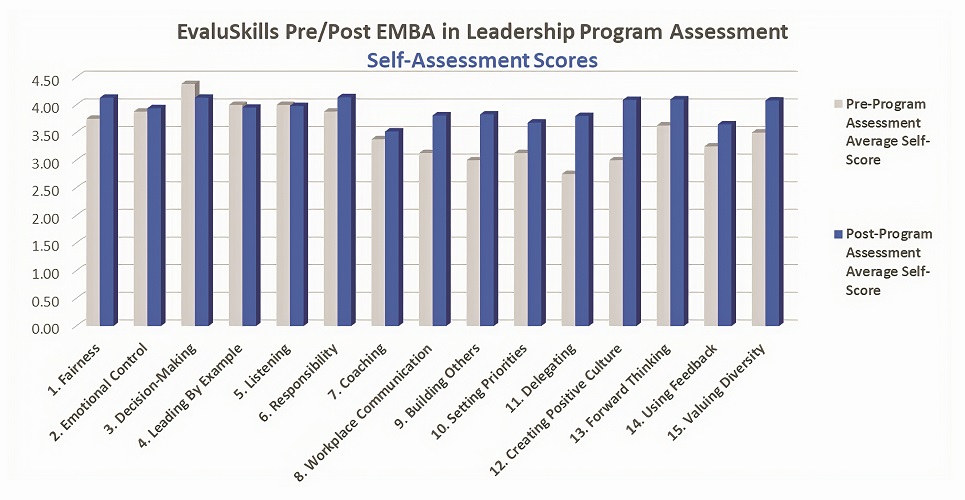 Kruger and Dunning (1999) found that incompetence in a particular area (logic, humor, grammar, etc.) robs the person of the knowledge needed to recognize and correct their weakness. Conversely, once the person gains proficiency in the area, the false optimism disappears.
EvaluSkills: Workplace Skills Assessment
EvaluSkills is a customizable service whereby the employer can choose the appropriate skills and competencies from a menu of items to measure proficiency, gather anonymous feedback from various observers, obtain objective scores and written comments, and use the information for individual and organizational improvement. The evaluation process is conducted entirely online, creating a seamless experience for administrators, employees, and evaluators.
The evaluation is completely customizable, and the rubrics are set up to elicit the most objective response possible. As a result, an organization can easily create multiple evaluation instruments with different skills that meet the needs of various groups within their organization (e.g., customer service employees, managers, etc.).
Most importantly, EvaluSkills provides employees, leaders, and organizations with the data needed for personal development and program improvement. The individual participant reports guide the development of action plans to leverage the employee's strengths and address any significant shortcomings. In addition, summary reports help guide the development of employee training programs.
Participant reports allow learners to see how others view their interpersonal skills, provide valuable insight into areas for improvement, and help them succeed in the workplace. For each competency, participants can compare their self-assessed scores against the scores given by external evaluators, which shows where they might have a blind spot relative to how others perceive them.
For the full MWCUA Leadership Institute Case Study, download our whitepaper, EvaluSkills: Assessing Soft Skill Learning Outcomes Using 360-degree Assessment Approaches.