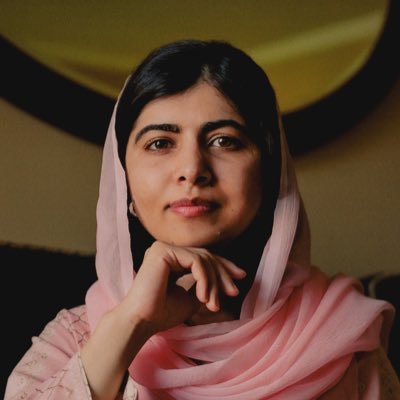 Malala Yousafzai is an exceptional young leader whose journey is rooted in her unwavering commitment to advocating for girls' education and her fearless fight against the Taliban's oppressive regime in Pakistan. Although she may not have done so intentionally, Malala knew how to inspire people.
Born on July 12, 1997, in Mingora, a town in the Swat Valley of Pakistan, Malala has always valued education as a force for empowering individuals and uplifting communities. Malala's father, Ziauddin Yousafzai, a passionate education activist, played a significant role in shaping her beliefs.
In 2009, at eleven years old, Malala started writing a blog for the BBC Urdu service, documenting her life under Taliban rule and advocating for girls' right to education. However, Malala's advocacy came at a great personal cost. In October 2012, while she was on her way home from school, a Taliban gunman boarded her bus and shot her.
Remarkably, Malala survived the attack, and, despite the immense physical and emotional challenges she faced, she emerged more determined.
Her resilience and courage inspired people worldwide, who rallied behind her cause and joined the movement for girls' education. The Malala Fund, established in 2013, became a platform to amplify her message and support education initiatives for girls in disadvantaged communities.
Her courage, resilience, and unwavering determination inspire people from all walks of life to stand up for what they believe in. She has inspired young girls to dream big and defy societal expectations. She has ignited conversations about the importance of education in achieving gender equality and breaking the cycle of poverty. Malala's presence ignites a fire within people, motivating them to go above and beyond their limits. This blog post will explore the art of inspiring others and provide practical tips and techniques to help you ignite inspiration.
The Power of Inspiring Leaders
Research consistently demonstrates that inspiration is vital in enhancing motivation among individuals. Motivation and inspiration are often confused with one another, but they are different. Motivation is the force that causes a person to take action. The force can be negative, positive, intrinsic, or extrinsic. There are many types of motivators. On the other hand, inspiration is the process of being mentally stimulated in a way that produces the motivation to act. In a Harvard Business Review article, author Scott Barry Kaufman described inspiration as the force that "awakens us to new possibilities by allowing us to transcend our ordinary experiences and limitations."
Why should we focus on inspiration in our leadership? The article titled "Why Inspiration Matters" by Mohamed Buheji, Zahraa Saif, and Haitham Jahrami shares the results of a study that explores the importance of inspiration in personal and professional growth. The study found that the characteristics of inspired individuals highlighted in the study included persistence, perseverance, honesty, prudence, fairness, responsibility, accountability, approachability, and discipline. Inspired environments empower individuals to overcome challenges and difficult situations.
The authors suggest that inspiration is closely related to innovation, emphasizing the importance of understanding the biological basis of inspiration. They argue that inspiration can lead to insights and "aha" moments, promoting disruptive innovation and reverse thinking. Inspiration is seen as a motivator that drives individuals to discover their potential and create environments where others can thrive.
How to Inspire People with Authenticity
Authenticity is a crucial element when it comes to inspiring others. People are drawn to genuine individuals who are passionate about what they do. Embracing your true self and displaying your enthusiasm creates a powerful connection with those around you. Authenticity allows people to see the real you and establishes trust, an essential foundation for inspiration.
One way to showcase authenticity is by being vulnerable and honest. By sharing your triumphs, failures, and lessons learned, you create a relatable and inspiring narrative that resonates deeply with others.
Asking Questions and Listening
As a leader, it's important to understand that nobody has all the answers. You're mistaken if you think people expect you to know everything. Believing that you have to know everything can work against you. Instead, effective leaders ask powerful and inspiring questions, openly admitting that they don't have all the answers and seeking the input of others to find them. Some leaders may feel nervous about this approach, fearing it might make them appear incompetent. However, research has shown that expressing vulnerability and seeking help builds trust. By learning to ask questions well, you can connect with others, foster collaboration, and tackle complex problems.
When we talk about asking questions as a leader, we mean asking big, high-level questions. These questions encourage people to think critically, innovate, and be part of something great. By asking these types of questions, you communicate that questioning is important and inspire others to identify new opportunities and seek help when needed. Encouraging exploration and generating new insights in response to your questions, rather than simply expecting complete answers, will drive innovation and growth.
How to Inspire People by Setting a Compelling Vision
Dr. Martin Luther King Jr.'s iconic "I Have a Dream" speech is a powerful example of how a leader can identify and articulate a vision that inspires and mobilizes people. In business, leaders can learn valuable lessons from Dr. King's speech in bringing about positive change within their organizations.
Lesson 1: The power of a clear and concise vision
Dr. King's speech emphasized the power of a clear and concise vision. He left no room for ambiguity as he passionately outlined his demands for equality. Similarly, in business strategic planning, a compelling vision is an organization's guiding force. It helps employees understand the organization's purpose and direction, fostering a shared sense of unity and purpose.
Lesson 2: Use of rhetoric
Dr. King's masterful use of rhetoric played a pivotal role in the speech's impact. He spoke in relatable terms and language that resonated deeply with his audience, making his vision tangible and real. Business leaders can draw inspiration from this approach by using familiar and accessible language when communicating their vision. By fostering relatability and clarity, leaders can ensure that employees connect with the vision and feel motivated to actively contribute to its realization.
Lesson 3: Timing and urgency
Dr. King spoke passionately about the pressing issue of racial inequality, creating a crisis that demanded immediate action. In times of crisis or organizational change, leaders who effectively communicate a sense of urgency and provide clear direction are more likely to rally support and achieve success. Leaders must be attuned to transformational moments and employ impactful language that resonates with their audience, inspiring them to act.
Inspire by Action
People hold a great deal of respect for leaders who are willing to roll up their sleeves and work alongside their team. Leaders who are actively involved in the day-to-day operations and willing to get into the trenches inspire admiration and loyalty. People are more likely to be motivated and inspired when they observe someone actively working towards a vision.
As author and motivational speaker Simon Sinek famously stated, "People don't buy what you do; they buy why you do it." When leaders lead by example, demonstrating their passion and commitment, they inspire others to pursue a shared vision, fostering a culture of inspiration and achievement.
For example, when faulty ignition switches in GM vehicles resulted in multiple deaths and injuries, Mary Barra, the CEO of General Motors (GM), took swift and decisive action. She addressed the issue, empathized with those impacted, and took responsibility for the company's shortcomings.
Barra initiated a comprehensive internal investigation, implemented a rigorous recall process, and prioritized customer safety above all else. She appeared before Congress to testify about the crisis and displayed high transparency and accountability.
Under Barra's leadership, GM underwent a significant cultural transformation. Her focus on accountability, customer-centricity, and sustainability has revitalized GM as a company and inspired the automotive industry to embrace innovation and responsible business.
Need More?
While the strategies and techniques discussed thus far can significantly enhance your ability to inspire others, professional guidance and expertise sometimes are necessary to unlock your full potential. This is where Peregrine Global Services comes into play. As a leading provider of comprehensive leadership, professional, and organizational development services, Peregrine offers tailored solutions to help individuals and organizations thrive.
Peregrine's team of experienced consultants and facilitators is well-versed in inspiring others and cultivating effective leadership. With a deep understanding of the complexities of modern business environments, they provide personalized guidance to help you overcome challenges, develop your leadership skills, and foster a culture of inspiration within your organization.
---
References
Buheji, M., Saif, Z., & Jahrami, H. (2014). Why Inspiration Matters? Journal of Inspiration Economy, 1(1), [Page Range]. Retrieved from http://journals.uob.edu.bh ISSN (2384-4752)
Entrepreneur. (Year unavailable). Why Business Leaders Need to Roll Up Their Sleeves. Retrieved from https://www.entrepreneur.com/leadership/why-business-leaders-need-to-roll-up-their-sleeves-to/375495
Harvard Business Review. (2011, November). Why Inspiration Matters? Retrieved from https://hbr.org/2011/11/why-inspiration-matters
Rayman, N. (2014, June 5). GM fires 15 linked to recall scandal, Mary Barra announces. Time. https://time.com/2826638/general-motors-fires-recall-mary-barra/
W. P. Carey School of Business at Arizona State University. (2022, January 8). How to Create and Articulate Your Business Vision: Martin Luther King Jr. Retrieved from https://news.wpcarey.asu.edu/20220108-how-create-and-articulate-your-business-vision-martin-luther-king-jr