You've heard the economic rationale for making our workplaces more diverse. Generally known as the business case for diversity, it offers some key reasons why organizations might want to make diversity, inclusion, and equity a priority. First, there's the talent case: organizations that commit to diversity are better poised to attract top talent from different backgrounds and fully leverage the capabilities of all employees. The customer case argues that diverse companies are better able to reach new markets, expanding into previously underrepresented areas. Finally, the case for innovation posits that only by looking at problems from new angles can we create innovative solutions. These arguments are designed to persuade business and industry to make room at the table for others – but how does higher education support creating diverse workplaces?
It Is Just Good Business
The business case makes sense, and there are data to support the idea that ethnic and gender-diverse executive teams financially outperform their less diverse peers. However, it isn't just about the gains at the end of the day because a commitment to diversity is ethical, socially responsible, and all-in-all good business practice.
Consider the call for social responsibility, fulfilling a moral obligation for companies to influence the world positively. A commitment to diversity improves an organization's brand as equitable, showing it to be a place where learning, inclusion, and human dignity are respected. Beyond potential financial gains, this message shows the importance of people and building a culture that recognizes and celebrates differences. It means sharing power with people and giving everyone a voice in setting the agenda and determining what work is done.
The Role of Higher Education
Consider a business student who has landed a position with a small technology company as an intern. The company consists of a diverse team with employees positioned worldwide, including in Europe, Asia, Canada, and various regions of the United States. Due to advancements in technology, employees regularly communicate and collaborate. Morning and evening meetings are set so that all employees, regardless of geographic location or time zone, have an opportunity to connect and contribute to projects. This intern has never participated at this level in cross-cultural communications. They may not be aware of various cultural norms and may struggle to work with others and complete projects successfully. Without diversity and culture training, this intern has a great deal to learn quickly.
Higher education plays a crucial role in achieving the promise of democracy, transforming our society into a truly pluralistic community (Smith, 2020). Higher education helps develop the skills and knowledge learners need to succeed within the workforce. As businesses and employers recognize the need to hire individuals who can work with teams consisting of people with various perspectives and backgrounds – higher education is there to prepare our future workforce.
Coming out of a program, learners need to be able to effectively participate in cross-cultural communications, contribute positively to a diverse workplace, and make space for their colleagues to contribute. The question is, how do you develop this specific set of skills and knowledge?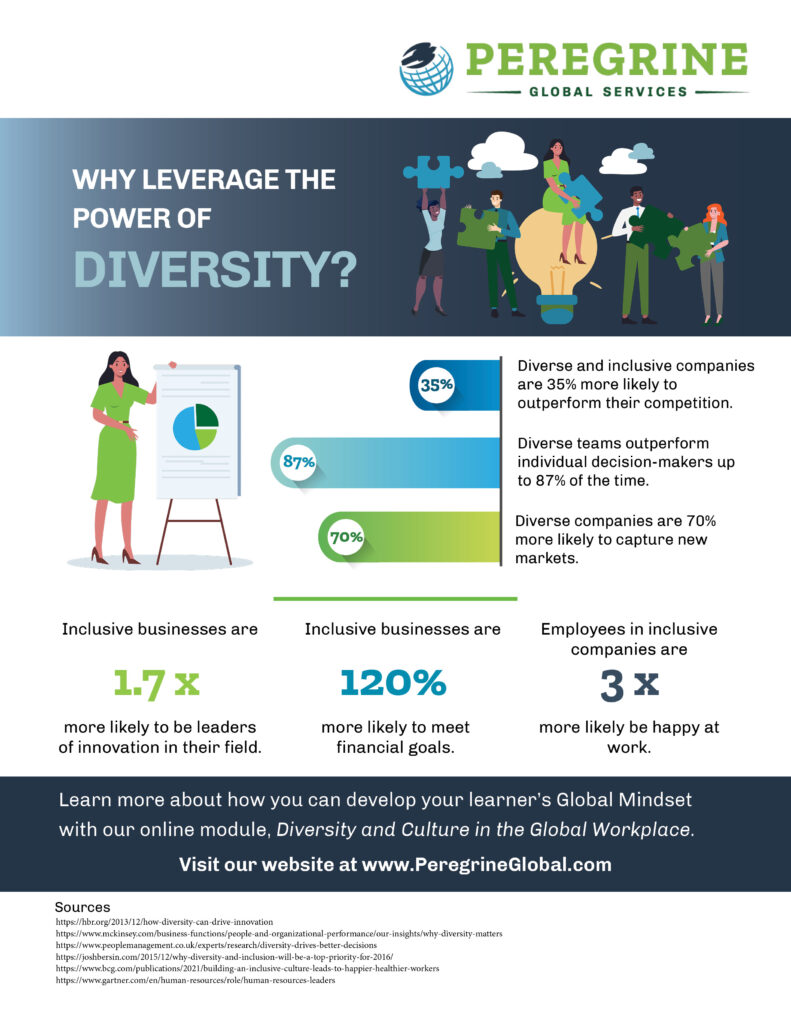 Incorporating Diversity into Business Education
Technology is recognized as a central element of teaching and research; it is not an afterthought but a driving force in designing the university's systems. In the same way, institutions should consider diversity when building curricula, hiring faculty, and supporting student success. An embedded approach to diversity means questioning assumptions and exploring the social context. It begins with making diversity central to education.
Modifying Curriculum and Pedagogy to include Diversity Education
When incorporating diversity and cultural competence into an academic program, you must consider the development of curriculum, pedagogy, and delivery methods. The first step is to ensure learning outcomes related to diversity and multicultural competence are expressed at the institutional, programmatic, and course levels. Secondly, the current curriculum must support the established learning outcomes. Institutions do not need to start from scratch, though. Current curricula can serve as an existing structure for adding diversity-focused content. Do not overlook current systems and curricula as they allow minor changes that help institutions incorporate these topics and values into their programs more efficiently. Third, pedagogy, such as case studies and experiential learning, is best suited for assisting learners to gain mastery of related concepts.
↓ Download our FREE Guide to Writing Program Level Learning Outcomes
Psychological Safety is Important for Diversity Education
Addressing diversity, inclusion, equity, and even social responsibility are not always easy. One of the methods for addressing diversity is creating an atmosphere of psychological safety. Kinias, Carter, Norton, and Phillips (2019) state, "Instead, it is to create an atmosphere of safety – so every student can engage and contribute – while pushing everyone (no matter their background) to think in more complex ways about diversity." To create a space of psychological safety, educators have found success in telling stories about their misgivings with diversity, utilizing business cases to demonstrate concepts, or delaying the introduction of concepts related to identity and concentrating on experiences nearly everyone could relate to.
Even more powerful, creating a space of psychological safety is modeling the behavior that will lead learners to succeed in diverse environments later. Teams that operate in an environment of psychological safety are much more effective than teams that do not. In 2012, Google began a new initiative – Project Aristotle – to examine hundreds of Google teams and determine why some struggle and others succeed. The initiative discovered great teams share two types of behavior – conversational turn-taking and social sensitivity. In short, it was psychological safety, the belief the team will not shame or chastise someone for speaking up, that made teams effective.
Utilizing Online Modular Instruction
Some higher education institutions have begun utilizing online, asynchronous modules to introduce concepts related to diversity, culture, ethics, and more to their learners. Leading Edge Learning: Competency-based modules allow institutions to embed these topics into programs and offer a dynamic way for learners to engage in instruction. Especially, our partner institutions have added Diversity and Culture in the Global Workplace and Business Ethics to promote a global mindset and ensure learners have the skills necessary to join the global workforce.
For a demo of one or more of our modules, please contact us using the form below.
References
Hunt, V., Prince, S., Dixon-Fyle, S., & Dolan, K. (2020, May 19). Diversity wins. McKinsey. https://www.mckinsey.com/featured-insights/diversity-and-inclusion/diversity-wins-how-inclusion-matters.
Kochan, T., Bezrukova, K., Ely, R., Jackson, S., Joshi, A., Jehn, K., … & Thomas, D. (2003). The effects of diversity on business performance: Report of the diversity research network. Human Resource Management: Published in Cooperation with the School of Business Administration, The University of Michigan and in alliance with the Society of Human Resources Management, 42(1), 3-21.
Smith, D. G. (2020). Diversity's promise for higher education: Making it work. JHU Press.
Barber, N. A., & Venkatachalam, V. (2013). Integrating Social Responsibility into Business School Undergraduate Education: A student perspective. American Journal of Business Education (AJBE), 6(3), 385–396. https://doi.org/10.19030/ajbe.v6i3.7819
Kinias, Z., Eva, Sib, YallaCase, & Ahnk. (2019, September 16). Integrating diversity into business education. INSEAD Knowledge. Retrieved February 15, 2022, from https://knowledge.insead.edu/blog/insead-blog/integrating-diversity-into-business-education-12406