In fall 2019, more than 7 million learners were enrolled in an online course at the postsecondary level. Since the beginning of the pandemic, online enrollment has continued to expand, and higher education has had to work out how to assess their learners in the online environment best. As a result, you may have found yourself searching for the best online alternatives to proctored exams that once were administered in a classroom.
As you know, learners can get quite creative in attempts to cheat on an exam, and higher education institutions seek to prevent academic misconduct, any cheating related to academic endeavors. However, with advances in technology, preventing dishonesty is more difficult.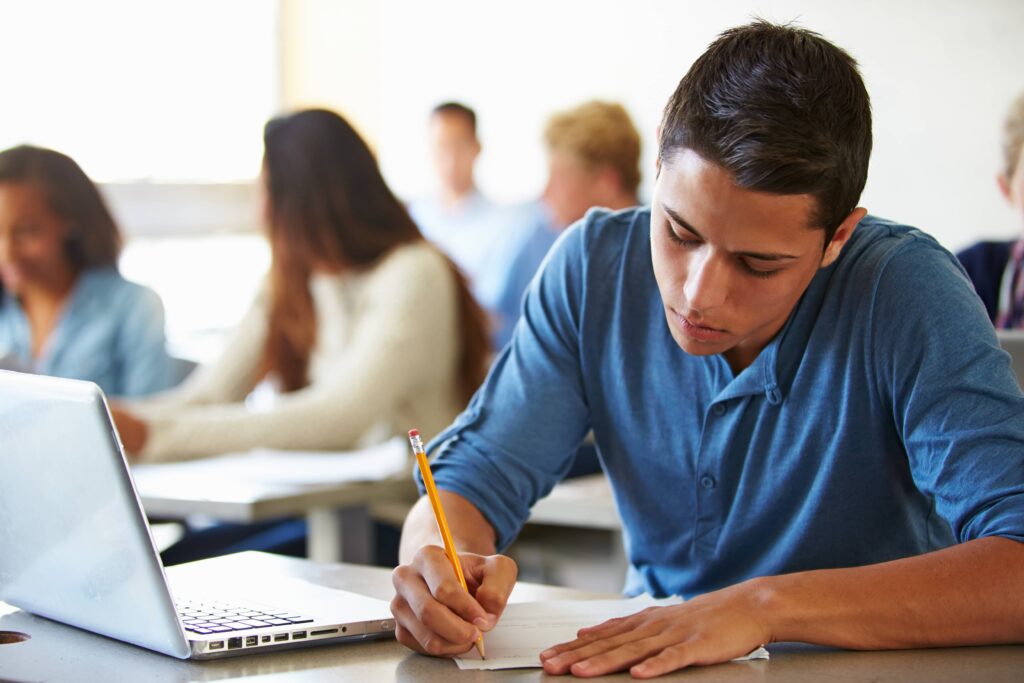 How do I Keep My Students from Cheating?
The short answer is – you don't. Regardless of what service or system you set up, your learners will likely always find a way to cheat.  Take a moment and search the keywords "how to cheat on online proctored exams," and you will find multiple websites with information on how you could get around online live proctors' systems. Although you can't stop cheating, there are ways to decrease the likelihood of cheating and make certain as much as possible that learners are honest.
↓ Jump down to explore Alternatives to Proctored Exams.
Create a Culture of Integrity
First, it is essential to create a culture of integrity. Many institutions review what it means to be academically dishonest and how such activity can impact a learner's education at the beginning of the semester. By having learners take a pledge to hold academic integrity at the beginning of every exam, you can remind them of their promise and the consequences associated with cheating.
To Proctor or Not to Proctor, that is the Question
The most common type of remote proctoring is live online proctoring. In this model, learners are connected to a proctor via online video chat, and the proctor watches the student take the exam through their webcam and a shared screen.
Remote proctoring of online exams does have its benefits. Due to the increase in online learners, companies that provide online proctoring have experienced explosive growth. In addition, remote proctoring providers utilize cutting-edge AI technology to make exams cheat-proof. By employing remote proctoring, schools can eliminate the requirement for a physical proctor, provide services to students regardless of geographic location, and ensure exam integrity with advanced exam security.
Despite the benefits of online remote proctoring, learners find the process intrusive and faculty report that it limits equity and accessibility in education. The process of starting an exam is quite involved. Learners must give the exam proctor access to their screen, microphone, and camera, display their driver's license, rotate the webcam 360 degrees, show their workspace, and hold a mirror up to the webcam. For some students, the process of being heavily monitored creates unnecessary anxiety that can impact exam performance.
Also, online education has long been celebrated as a way that learners from all walks of life can access education. However, live proctored exams are restrictive. Once the learner begins the assessment, they are often not allowed to leave the exam window. If the student needs to use the restroom or take care of children, they will not be able to. The inability to take a break from the exam reduces access to learners who may be unable to find adequate childcare or cannot sit for long periods of time without a break.
Some Alternatives to Proctored Exams
An easy alternative to proctored exams is to choose an exam provider that has advanced built-in security features. For example, Peregrine Global Services provides programmatic and course-level knowledge-based exams to measure expected student learning outcomes in various programs. To ensure the integrity of the online assessment process, Peregrine has put several security features in place. The following combined security features provide a great alternative to proctored exams.
Disabled Copy and Paste
It seems so easy to copy an exam question out of a window and paste it into Google. Fortunately, exams like Peregrine's have disabled copy and paste to keep students from pasting into a search engine. In addition, questions have a three-minute time limit, making typing the question into another window and finding a question in time difficult.
Questions Served One at a Time
Questions are served one at a time, so learners cannot backtrack. Therefore, learners can safely take two 15-minute breaks or exit the exam and re-enter it three times within 48 hours. The flexibility of this feature increases accessibility and ensures that students from every walk of life can complete the exam.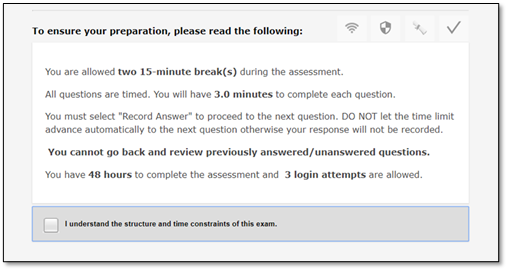 Monitored Screen Activity
Online exams that monitor screen activity will track the examinee's activity within the window to ensure they are not clicking outside of the exam to look for external resources. Additionally, the security feature can trace mouse movements to indicate that learners are actively moving through questions. If examinees move away from the exam window they are provided with a warning. The notice will often prevent students from making any further attempts to cheat on the exam. The activity is recorded and available to the school admin.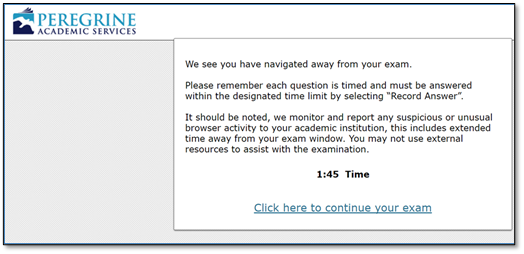 Tracked Geographic Location
Through IP addresses, we can track if a learner begins their exam in one location, but then an hour later, they have moved to a very different geographic area (e.g., from Florida to Israel). Through various metrics in place, Peregrine can flag certain items for review and send them to the institution.
The security features listed are a great way to enhance academic integrity efforts. Peregrine has provided secure, online exams that do not need a proctor for more than 10 years. Learn more about our Assessment Solutions here.