Peregrine Global Services is made up of a diverse team of difference-makers who lead with integrity, value quality, innovation, and life-long learning. Our team members have a wealth of lived experiences that they funnel into doing good in the world. We celebrate our team by sharing their stories.
We've learned in school about the sacrifices American servicemen made overseas during the Second World War, and many of us have family members who served with the Allied forces. Then, on May 8, 1945, celebrations erupted worldwide to mark Victory in Europe Day and the end of World War II in Europe. In the year preceding V-E Day, more than 100,000 U.S. servicemen were killed in action in the European theater of operations, and many families could not bring their soldiers home. In the years since, citizens of Europe have stepped up to remember and honor U.S. soldiers who lost their lives by adopting graves, finding pictures of the soldiers, visiting the burial site, and maintaining touch with their families.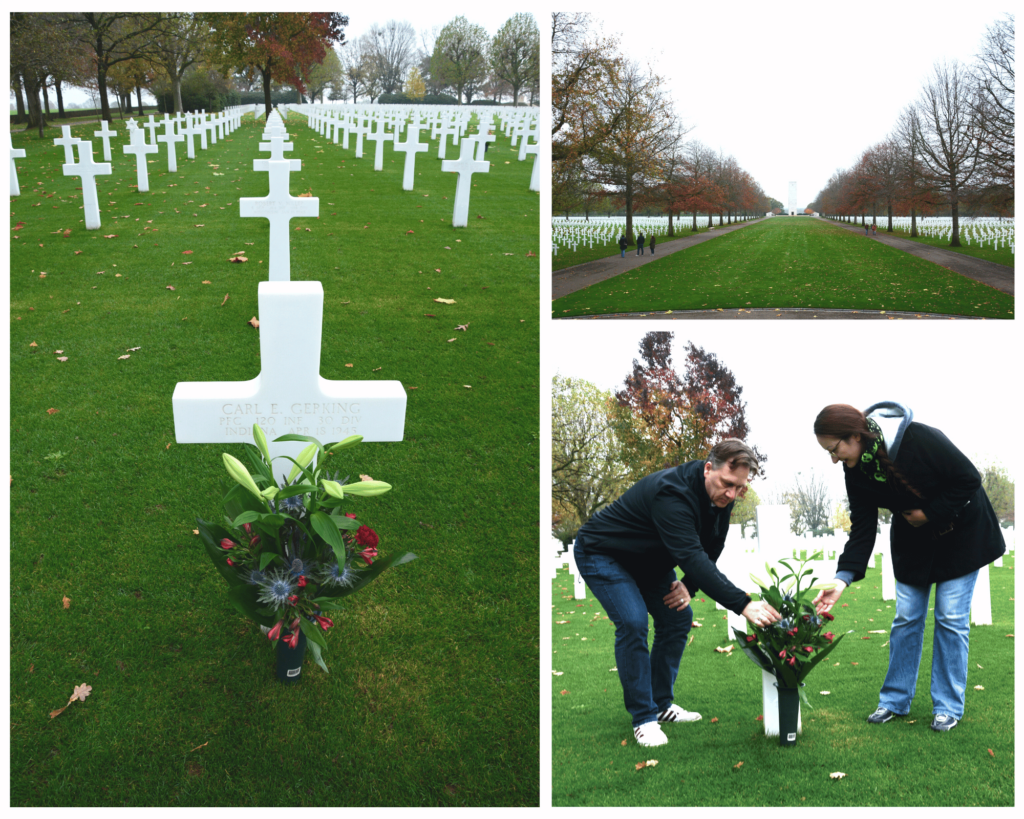 One such caring couple includes Peregrine's Dr. Katalin Kovacs and her husband, Constantin de Vries, who live in Maastricht, Netherlands. Kati and Constantin applied to adopt a grave at the Netherlands American Cemetery and Memorial. Their application was accepted, and they adopted PFC Carl E. Gerking of Indiana, who passed away on April 15, 1945, less than a month before the war's end.
Constantin explains how his childhood experiences, learning about the war, and the liberation of Maastricht compelled him to join the movement:
My journey to becoming a caretaker started at a young age. Being a young boy, I was mesmerized by the antique WW II vehicles in the yearly parade from the local "Old Hickory Club." This club paid homage to the American 30th Infantry division called 'Old Hickory, who liberated the city of Maastricht and the most significant part of Southern Limburg in World War II. This war has left a deep mark on our country as well as our province Limburg. This history is intertwined with our society today since the price of freedom has been immense and left an indelible mark on everybody.
Obviously, as a young person, I did not fully grasp the impact of war. Having a somewhat idealized picture of war, I was intrigued and started reading more about this subject. In the process of learning about this conflict, I read more and more personal experiences from witnesses. My idealized picture grew from abstraction towards a deeper connection and understanding of the horrible suffering and sacrifices made by the soldiers fighting in this conflict. And with that understanding, my respect for them grew throughout the years.
I also learned that nearby my hometown, we have the Netherlands American Cemetery and Memorial, the only American military cemetery in the Netherlands. I heard stories that the local community adopted the graves of fallen soldiers, routinely bringing flowers to the graves to honor them. This connection between the local community and fallen soldiers felt unique to me, and about ten years ago, I decided to pay my respect and visit the cemetery. I felt very emotional to see so many graves, almost all of them marked with their own name, rank, and origin of the state.
What made it even more personal to me was when I read the first edition of The Faces of Margraten tribute in 2015. With the support of the graves' adopters, the soldiers' relatives, and many others, the "Faces of Margraten" foundation had collected the photos of approximately 5000 American soldiers who have been buried or memorialized at the American War Cemetery. Seeing their faces and reading their stories brought them back to us in a very personal way.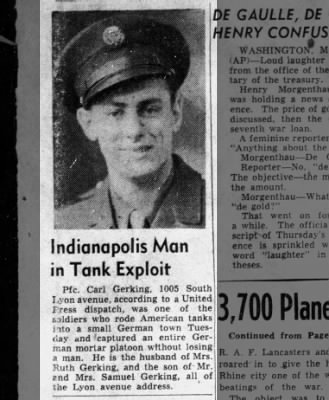 After reading the book, I decided to honor them by actively being part of that community that honors those who sacrificed themselves for our freedom. I enlisted for the adoption of a grave. As all graves were adopted, I had to go on a waiting list. It is a rare occasion that a grave will be granted for adoption as most graves will be part of a family to take care of. Nevertheless, after 2 years, I received an email from the Foundation for Adopting Graves and was granted adoption of the grave of Carl E. Gerking from Indianapolis, Indiana. The foundation certificated the adoption, and the grave was now our responsibility.
Kati and Constantin are part of a large group of European citizens who pay tribute to American soldiers and the sacrifices they made so far from home. They visit PFC Gerking on American and Dutch holidays and often bring him flowers in a red, white, and blue combination. He is part of their family now.