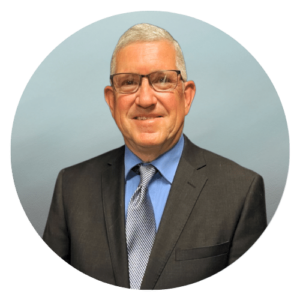 Steve Boothe
Director of Leadership Development
Steve Boothe, Director of Leadership Development, is the type of person who finds a lesson to be learned in every experience. His first job was sorting empty pop bottles for 50 cents an hour when he was only 13 years old. That first experience in the workforce taught him the value of hard work. Only two weeks after starting his first job, he received a whole 10-cent raise for exhibiting exemplary work ethic. The lesson learned stayed with Steve throughout his over 40-year career and served him well as he moved up the ranks, learning leadership lessons along the way. Now, Steve is passionate about sharing those leadership lessons with contributing team members, supervisors, middle managers, and senior-level leaders. He believes that by sharing his experiences, he can positively contribute to creating the next generation of values-based leaders.
Steve began his career as a laborer within the coal mining industry; the work was hard. Still, it provided insight as he moved up the ladder of the importance of leadership at all levels of an organization. Steve continued to learn from those around him, and seven years into his career, he became a front-line supervisor. Reflecting on his experience, Steve recalls the struggle of making the transition from a work buddy to a supervisor. From there, Steve continued to advance in his career, taking on the role of project manager, department manager, plant manager, and superintendent.
In addition to his civilian career, Steve served in the US Army Reserve for 20 years, enlisting as a Private and then promoted into the officer ranks, where he held three separate unit commands and served at battalion-level logistics and communications staff positions. He finished his military career as an operations officer for the US Army Space and Missile Defense Command.
Steve's experiences taught him the value of acting with integrity and being ethical despite potential negative consequences. Additionally, Steve found that when you treat people with respect and lead by example, those around you are more likely to put their trust in you and work to achieve.
Steve graduated from Colorado Technical University, earning a BSBA with a concentration in project management. He currently volunteers as a mentor and a job coach for teens with special needs or who are in crisis.
After more than 40 years, Steve retired but still strongly desired to share his knowledge and do good in the world. So, he spent a year and a half as a vocational job coach at Campbell County School District, helping young people learn the skills needed to succeed in the workplace. Steve has also actively been highly involved as a mentor for the YES House, an organization committed to helping children and families receive essential resources and tools.
Today, Steve serves as the Director of Leadership Development at Peregrine Global Services. Previously a Peregrine leadership workshop participant and contract facilitator, Steve brings a unique perspective and a passion unlike to the role.
Every battle is won or lost before it is ever fought - Sun Tzu - The Art of War