Teaching higher education learners strategy is complex as application is necessary for a full grasp of the subject matter and mastery of competencies involved in teaching strategy. One solution is to teach strategy through a simulation.
In 1984, David Kolb developed the framework for experiential learning, a process by which knowledge is acquired through the transformation of personal experience. Kolb explained that experiential learning must play a central role in transforming higher education by providing a platform to empower learnings and building learning communities. Kurt Squire, a Professor at the University of California, Irvine and former Director of the Games, Learning & Society Initiative at University of Wisconsin-Madison, emphasized that digital experiences such as simulations should be goal-based, built on specific components that include learning goals, mission, appropriate cover story, the learner as the protagonist, an engaging scenario, appropriate resources, and feedback (2006). For experiential simulation to operate within global higher education, it must be readily accessible, affordable, scalable, and relevant (Squire, 2006).
OneDay Strategy Simulation: An Interactive Learning Experience
OneDay is a multi-episode experiential learning simulation that teaches learners about the concepts of forming a business strategy. OneDay follows a single character – Emma, the protagonist and a young employee of a company called North South Airlines – as she navigates through the business environment, gathering information along the way from various characters and other information sources.
→ Click here to download the full whitepaper on OneDay to learn more about the simulation's applications in higher education and review additional case studies.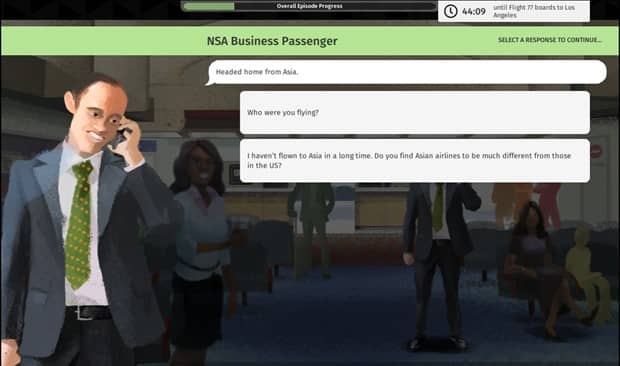 In the OneDay simulation, learners are evaluated in various forms about concepts related to strategy. They review in-course readings, are asked to prioritize what they have learned, make decisions about what strategy to implement based on what they learn, and finally, deliver a presentation to the CEO of North South Airlines regarding the learner's selected strategy.
The outcome of OneDay is the choice of a strategy for an airline, supported by qualitative research conducted among customers and employees and quantitative analysis of industry reports and financial documents, culminating in presentation of a coherent strategy and supporting actions to the CEO. Learners gather and build the information they need in Episodes 1-5 and then organize that information in Episode 6. There is an epilogue in the simulation, Episode 7, where the learner receives feedback from the CEO.
The simulation is completed as an individual; however, collaboration between learners is encouraged where practical. Although OneDay is literally one day in Emma's life, learners will spend approximately 45-60 hours to complete the simulation. Learners can go back and re-start/re-play episodes as often as needed. Assessment and feedback are used throughout the simulation.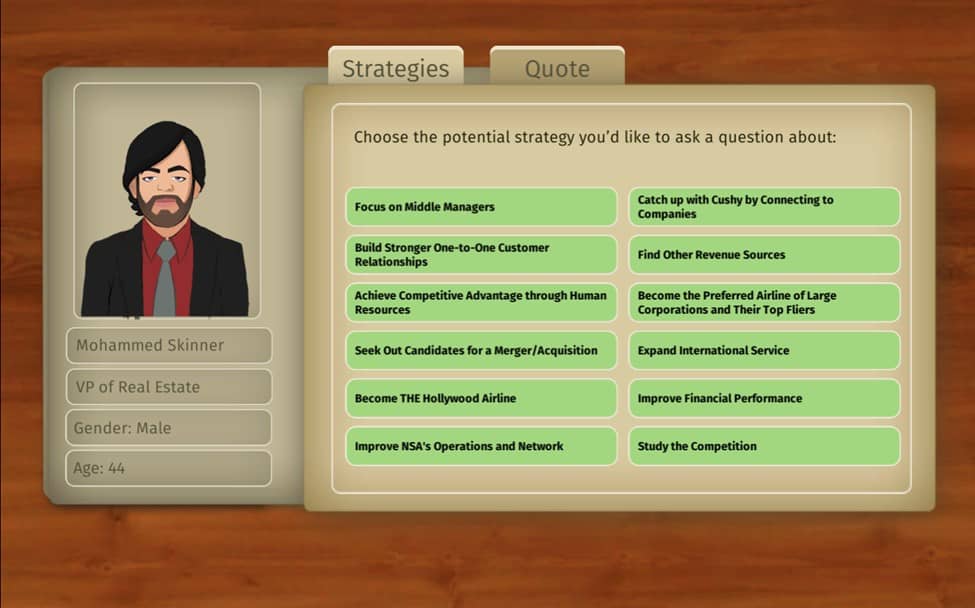 The Uniqueness of OneDay
Simulations are typically team-based, and the learners assume senior-level organizational roles external to the online environment and then input data into a system for system-generated responses. Interaction and dialogue within the simulation is limited. Learners often game-the-game to find the correct response. Although useful to teach key concepts, such simulations have limited effectiveness in developing critical thinking and soft skills.
OneDay is distinct. The simulation framework within OneDay is workplace-focused, more typical for an emerging university graduate. The simulation develops key soft skills including customer interaction, leadership, time management, and team-based operations. OneDay has built-in assessment used by both the learner for continuous feedback and by school officials for assurance of learning. OneDay does not offer just a single, acceptable solution: many viable options are possible within the simulation, as long as they are supported by data. Learners can repeat episodes to improve scores. OneDay is truly an experiential learning solution whereby learners learn by doing. The following case study illustrates how individualized simulated experiences impact learning within higher education.
Case Study: Hult International Business School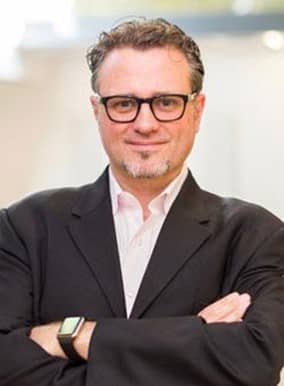 The following interview with Olaf J. Groth, Ph.D., Professor of Practice – Strategy, Innovation, Economics, & Futures at Hult International Business School was conducted as a means to uncover the impact of OneDay Strategy Simulation in higher education.
Peregrine Global Services: I want to begin by obtaining your perspectives on the initial work that you did with the use of OneDay at Hult International Business School. Why did you consider using the OneDay simulation at Hult in your business strategy courses?
Dr. Olaf Groth: This was initially based on my friendship with Dr. John Beck, the creator of OneDay. John exposed me to the concept early on as he was developing the simulation. Although I had the initial reaction that many other professors have about how the simulation could possibly replace me, I knew that John was onto something with his approach towards creating the simulation.
In business schools, we are still teaching in a 19th Century industrialization mode. We need the help of technologies to make our teaching more customized and personalized for today's students. I am used to dealing with disruption on the job. Let us embrace it and learn from it, and let's see how my role as a faculty member needs to morph to be sustainable.
Any kind of simulation tool that would help me do that was welcomed. John and I started talking about the current limitations of simulations and how they're really not life-like, they're really not self-guided, and they're not smart in any way in terms of different learning styles. John really opened my eyes to the potential of this type of learning using an experiential learning simulation.
I was convinced that this could be highly impactful. OneDay could be a great way to get my toes wet with simulations and help promote this kind of learning to my colleagues.
Peregrine Global Services: I know that you are very passionate about quality in higher education. Why is quality important and what are some of the specific ways that you teach to help promote quality?
Dr Olaf Groth: We're educating future leaders for both the public and private sectors. I think the quality of thinking and the quality of integrating intellectual skills with socioemotional skills, including self-management, are so utterly important. I feel very strongly that you must bring that to bear in a project-based learning type environment where you're forced to not only bring your intellectual skills to the table, but also your socioemotional, management, and the integration of personal and professional lives. That's really what this simulation does. I think quality has a lot to do with a high-caliber, life-like learning situation, especially in very applied fields like business.
And, of course, it also has to do with helping students in a customized, personalized way. A simulation like OneDay allows me to delegate some of the raw content, frameworks, and learning theory so I can focus on coaching and counseling the students in a parallel track.
In real life, you often don't get a second shot, and if you get that second shot, it better be performed in a very high-quality way. It's both being demanding, and it's giving the right empowerment coaching to the students from the sidelines.
Those are the three elements of high-quality higher education: integration, realism, and student coaching.
Peregrine Global Services: How do you overcome the resistance of course faculty with such disruptive changes in the classroom using a simulation as a teaching approach?
Dr. Olaf Groth: Initially, I was one of those faculty members resisting the change, and John and I talked about this a lot. John talked me into an experiment to evaluate the utility of the OneDay simulation. I also got a call from my CEO at Hult, who wanted me to return to London to test the simulation in the classroom by seeing if the simulation could teach many of the concepts of strategy as well as us professors.
I stood back and asked the same question that every faculty member asks: will such technology replace me?
After all, it's coming, and you can't run away, right? It's going to happen. The idea that a single stakeholder group can singlehandedly hold up advances in higher education given the pressures we're under now is ludicrous. Frankly, we are looking at a substantial crisis of higher education affordability, debt levels, etc. The idea that we could block that and call ourselves educators is, to me, is preposterous. I had to overcome my hurdles, and that was the first step.
The second step that I think we all need to take is to understand that the use of the simulation automates a lot of the stuff that, frankly, isn't as fun doing in the classroom anyway, such as standing there and rattling off concepts and theories. It's probably not teaching if you're really just there to repeat routine tasks over and over, cash your paycheck, and go home. That's not satisfying to me, and I think most professors would probably concur.
Thus, it's the realization that OneDay actually allows you to teach things that are much more fulfilling and fun. Those are the more interactive elements, the more personalized elements where you can have a one-on-one impact on somebody's life and somebody's efficacy in a leadership role. That's really what it comes down to.
It's those two or three realizations. If we're serious about educating business practitioners and really having an impact, then it's a no brainer, right?
Peregrine Global Services: You said something earlier regarding the role of the faculty as a coach or a mentor as well as a teacher of concepts. The simulation teaches the concepts to the students, which allows the course professor to focus on their role as a coach to expand on workplace application. How do you see the use of OneDay facilitating that approach?
Dr. Olaf Groth: It's not as though the "sage on the stage" is no longer required or demanded. We always give that a bad name when we try to talk about coaching and mentoring, but I think there is clearly a role for thought-leadership when you're on the podium. Many times, my students have told me that they want to hear my perspectives. Too much flipped classroom isn't healthy either. Students want to hear what you are thinking, and they want to hear it from me directly. Using the simulation allows that time on the podium to be more like a keynote or a lightning talk where you can share the potency of your intellectual brain. The key is to guide people using life and learning experiences that are very job-like.
Professors must be able to put things into a human, interpersonal perspective. I think that's really the essence of the value proposition.
Peregrine Global Services: What feedback from the students did you get on their use of the OneDay simulation? What did they learn, and did you see any "ah ha" moments?
Dr. Olaf Groth: Yes, of course. I saw students grow in their ability to make strategic decisions in a time-sensitive situation. Students learned to appreciate good time management and the importance of interacting with others within the simulation to gain insights into the decision-making requirements. In the simulation, there are many strategic decisions that must be made under time pressure, and that's the way it is in real life.
I also saw thoroughness and synthesis capability that you must bring to bear in strategic business decisions – digesting and synthesizing a lot of different information that's coming at you. I think most students felt that they learned a lot and that it was worth the experience.
→ To schedule a demo of OneDay with a team member, click here.
To read more about OneDay Strategy Simulation download the full whitepaper by filling out the form below.
---
Olaf is the Founder and CEO of global technology and economy thinktank Cambrian Futures and solution concept development firm Cambrian Designs. He serves as professional faculty for strategy, technology, business and public policy at UC Berkeley's Haas School of Business, and professor of practice for strategy, innovation, economics and futures at Hult International Business School where he teaches across campuses in the US, Europe, Middle East, and China. He is a member of the Global Expert Network at the World Economic Forum, Visiting Scholar at UC Berkeley's Roundtable on the International Economy (BRIE, founded by Laura Tyson) and its program Work with Intelligent Tools & Systems (WITS).
Olaf has 25 years of experience as a strategic executive and adviser, building strategies and ventures across 30+ countries for multinationals (Boeing, Chevron, Ferrari, Phillips 66, Q-Cells, Qualcomm, Siemens, Vodafone, etc.), startups and private equity firms, foundations (Germany, Kenya, etc.) and governments (USA, UAE, Caribbean, etc.). This includes four years at Monitor Group's Global Business Network (GBN), the world's premier strategic foresight and innovation advisory firm during an equally turbulent time (2007-2011).
Olaf is co-author of Solomon's Code: Humanity in a World of Thinking Machines, and of the potentially forthcoming book The Great Remobilization — Reinventing the Post-Pandemic World. He is a frequent contributor to media outlets like WIRED, Financial Times, The Hill, Harvard Business Review (USA, Germany, France, Italia), California Management Review, Quartz, FOCUS, Die Zeit, World Economic Forum, Huffington Post, Peter Drucker Forum, LSE, Today's CFO, Thunderbird International Business Review, World Financial Review, European Business Review, Roubini EconoMonitor, Duke CE Dialogue, NPR, ZDF, and ARD.
Olaf holds PhD & MALD degrees in international affairs with business, economics and technology focus from the Fletcher School of Diplomacy at Tufts University, MAIPS & BA degrees with economics focus from Middlebury Institute of International Studies at Monterey. He studied negotiation at Harvard, economics at Georgetown, finance at Berkeley, and strategic leadership at the Center for Creative Leadership.
References
Kolb, D. A. (1984). Experiential learning: Experience as the source of learning and development. Prentice Hall: Englewood Cliffs, NJ.
Kolb, A. Y., & Kolb, D. A. (2017). Experiential learning theory as a guide for experiential educators in higher education. Experiential Learning & Teaching in Higher Education, 1(1), 7-44. https://nsuworks.nova.edu/elthe/vol1/iss1/7
Squire, K. (2006). From content to context: digital games as designed experiences. Educational Researcher, 35(8), 19-29.