Course Description
Think about the last time you experienced exceptional customer service. What was the result? Likely, you became an even more loyal customer. You may have begun to recommend the company to your friends and family or decided to exclusively do business with that company. The key to growing and sustaining your business is knowing how to provide outstanding customer service. Satisfied customers will keep coming back, and dissatisfied customers can hurt your reputation. In this program, you will learn how to fulfill customer expectations by applying strategies that leave your customers satisfied and happy. You will also discover how to create a workplace culture that prioritizes customer service and create a training program that will produce results.
Brought to you by Peregrine Pathways, you will receive access to an engaging online course and two 90-minute on-demand seminars focused on application and hosted by our leadership experts.
Learner Hours: 24 | 24 SHRM PDCs
Upon completion of Fulfilling Customer Expectations, participants will receive a certificate and digital badge in Customer Service.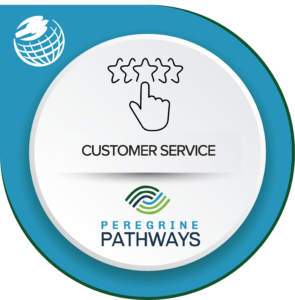 What will you learn?
How to differentiate between customer service and customer support.
How to apply strategies for performing quality customer service.
Strategies for conducting effective sales communication.
How to build a culture of customer service in an organization.
How to develop a customer service training program.
How to build a plan to enhance organizational customer service to improve customer satisfaction
Who is this course for?
Those who work in international operations, organizational structures, and business operations.
HR or talent and development professionals who need to teach diversity and inclusion across an organization.
Employees working in a multicultural workplace environment.
Supervisors and managers who need to develop their ability to lead diverse groups.
[commerce Item=328]