Course Description
Building a diverse organization full of people from different backgrounds is not enough. You must understand how to create an inclusive culture that allows you to leverage the power of diversity. Diversity and inclusion are a strength and can lend to your organization's various benefits including an improved company culture, happier employees, and unique perspectives that lead to a competitive advantage. In this program, you will discover how to leverage diversity to advance your organization. Whether you are a team member, supervisor, HR Manager, or executive leader this program will provide value. You will learn to understand and appreciate diversity and inclusion, perform cross-cultural communications, contribute to a diverse environment, and more.
Brought to you by Peregrine Pathways, you will receive access to an engaging online course and a 90-minute on-demand seminar focused on application and hosted by our leadership experts.
Learner Hours: 29 | 29 SHRM PDCs | 2 WY PTSB Credits
Upon completion of Discovering the Power of Diversity, participants will receive a certificate and digital badge in Power of Diversity.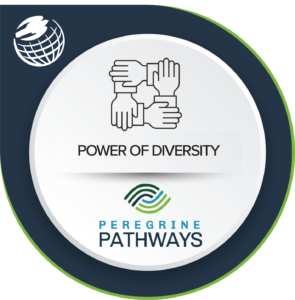 What will you learn?
How to leverage diversity and inclusion in your organization.
How to exemplify individual and organizational values.
How to perform cross-cultural communications.
How to contribute in a diverse, multicultural workplace environment.
How to help you organization better foster diversity and inclusion.
Who is this course for?
Those who work in international operations, organizational structures, and business operations.
HR or talent and development professionals who need to teach diversity and inclusion across an organization.
Employees working in a multicultural workplace environment.
Supervisors and managers who need to develop their ability to lead diverse groups.
[commerce Item=185]