Fellowships enhance key competencies and personal characteristics most sought by fellowship site; students completing fellowships see the largest improvement in those competencies.
Written by Matthew J. Ramey, CEO, Peregrine Global Services & Clarice Tate, Vice President of Quality & Systems Assurance, Peregrine Global Services
Recently, while at dinner with a cohort of Leadership Development program participants, I was asked what qualified me to discuss the various aspects of organizational and professional development being shared. I immediately began rehashing what sounded like a dry version of my resume. I was losing my audience quickly. Then I realized that what he wanted was an answer to give him faith that the hours we had spent in discussion, debate, and critical thinking were founded on something tangible.
When I realized his question was about him, not me, the answer was clear. What qualified me to discuss the subjects we had all labored over for three months? My experience. The experience of leading and orchestrating leadership development professionally throughout many years, several organizations, and a variety of industries, and countries. Being afforded the opportunity to meet, teach and learn with people from around the world, with all levels of education, backgrounds, professional experiences, and worldviews provided the individual asking the question with a foundation of my shared experiences.
The next morning, back in the classroom we expanded on the statement that leaders are created, not born. They are created through experience and the opportunity to witness, participate, and ask questions. They are created through the opportunity to fail and to succeed over time, shaped by both personal and professional experiences.
Assessing Competencies
On-the-job experience is critical to the growth and development of new leaders. Since that conversation, we wanted to examine in more detail the impact of competency-based, experiential learning opportunities.
To accomplish this, we compared the outbound competency assessment scores of Peregrine's database of CAHME accredited programs that offered fellowships as a part of their curriculum to those graduate programs that do not support fellowships. The data shows that students who completed a fellowship had higher retained knowledge in six (6) topics across the competency domains of Business Knowledge & Skills, Leadership, and Communication & Relationship Management, clearly, we see that experiential learning makes a difference in key competencies.
Peregrine Global Services provides a customizable and flexible way to assess learner's retained knowledge and use results to conduct ongoing quality assurance efforts. Our assessment is designed to address most CAHME accreditation (graduate) and AUPHA certification (undergraduate) requirements. Also, the assessment provides you with comprehensive reporting and an efficient and easy to use interface for managing your learners, reports, and data.
See the table below which examines the competencies and characteristics most desired of applicants, along with the competencies most improved by fellowships.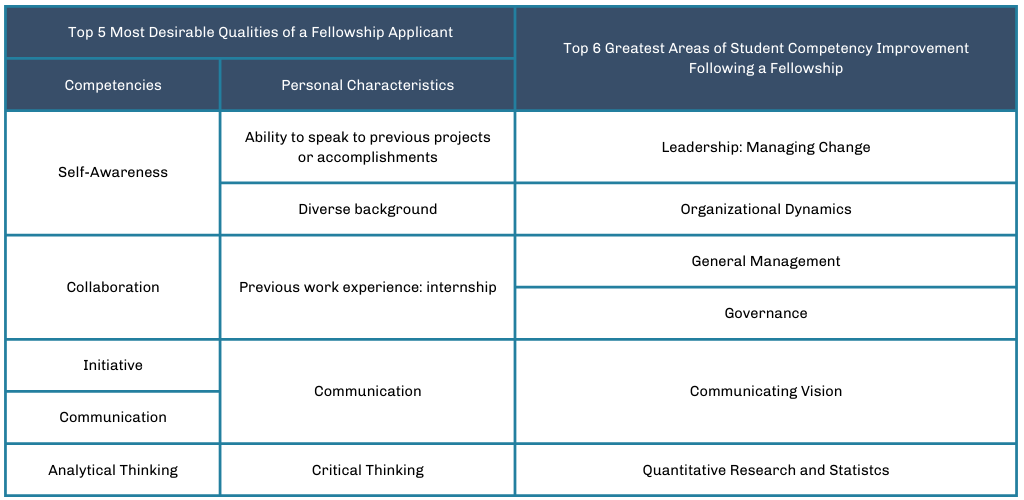 The findings are consistent with commonly believed benefits of experiential learning. Simply, the process of leadership development is not passive. We must be purposeful in providing experiences in which future leaders have an opportunity to observe, question, participate, fail, and succeed. An environment in which students can fail and succeed while asking themselves, "What can I learn from this opportunity?" or "How can I use this success to grow?"
The foundational question that the research begs us to address is how do leading healthcare management programs and fellowship sites design the necessary experiential learning opportunities into graduate education? We hope that Peregrine's competency assessment capabilities, CAHME, NCHL, faculty from the great healthcare management programs around the world, and the case studies presented in this White Paper enable students, programs, and fellowship sites advance experiential learning. Together, we can develop creative, knowledgeable and mission driven leaders well-prepared to tackle the difficult healthcare problems that society faces.
The Top 5 Most Desirable Qualities of a Fellowship Applicant comes from the NCHL NCAF Benchmarking Surveys 2021-2022. The Top 6 Greatest Areas of Student Competency Improvement Following a Fellowship is based on Peregrine Global Services' assessment data. 10 schools were drawn from Peregrine 2022 data from January through July 2022. The sampling criteria included having at least one period of Outbound Exam data and a minimum of 1 completed exam in the given academic period to be included in the analysis population. The analysis population included traditional (campus-based), online, and blended master's degree programs.
The Fellowship sample was defined as those students within the sample who completed an Outbound Exam at the end of their degree program and participated in a fellowship program. No other exclusions were considered. Schools have different incentives and acceptable thresholds for the Outbound Exam. Our intent was to review all exams available to formulate a hypothesis by which we could examine, in future, the comparisons between programs by which fellowships were required and those that were not.
The sample was restricted to the test bank topics within the domains of Communication and Relationship Management, Leadership, Professionalism, Knowledge of the Healthcare Environment, and Business Knowledge and Skills so that exam data could be associated with core competencies defined according to the Healthcare Leadership Alliance (HLA, 2010). Typically, these are general graduate healthcare management programs that do not have a specialization or concentration that included supplemental or advanced assessment topics.
Learn Through Assessment & Develop Competencies that Matter
Peregrine Global Services is proud to support NCHL and CAHME in its mission of advancing the quality of healthcare management education.
Every day, our partners in healthcare management education work to develop the competencies learners need to advance excellence and innovation in healthcare. We are here to help. Peregrine provides you with competency-based solutions to make facilitating student learning, assessing skills and knowledge, and developing competencies easier and more effective.
---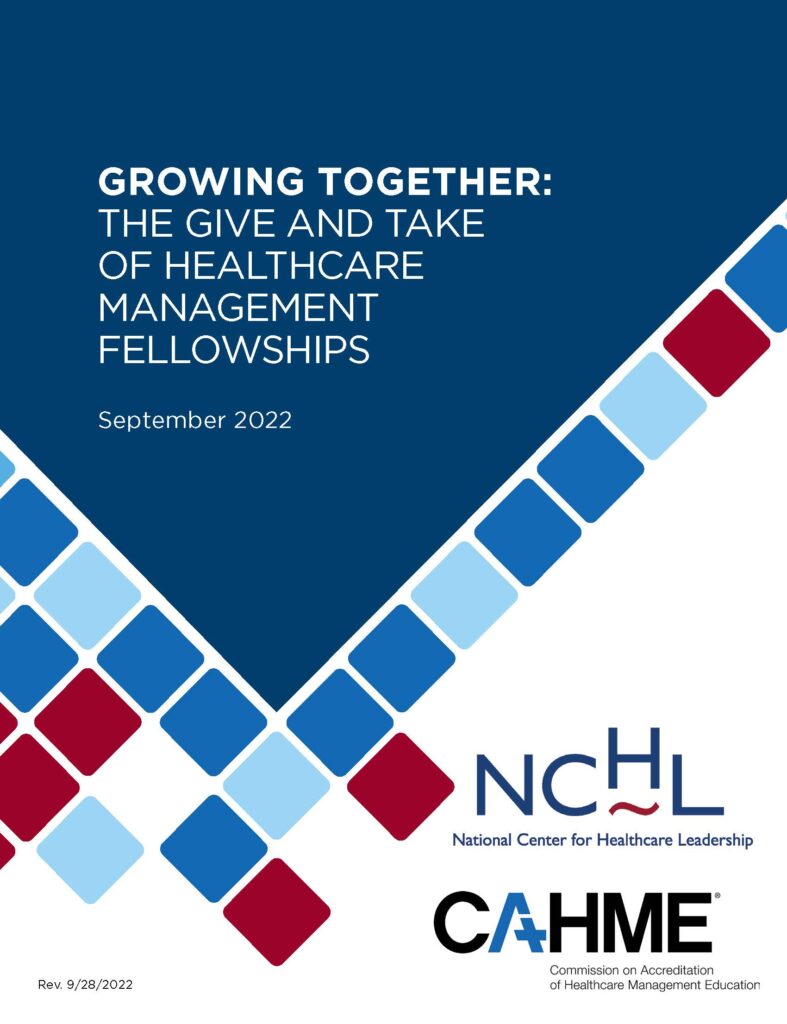 Get Your Digital Copy of Growing Together: Give and Take of Healthcare Management Fellowships
This whitepaper features the perspectives of past and present healthcare fellows and preceptors who share what they have given and received from their experiences in a fellowship. It also includes key statistics based on data from CAHME and NCHL.
Want to learn more about our Healthcare Administration Assessment for programmatic evaluation, visit our website here.